Tanzania Safari, Part 3: Climbing Kilimanjaro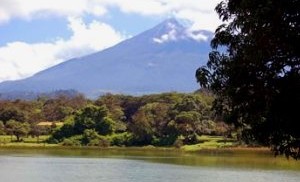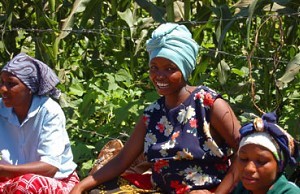 We arrived in Tanzania three days before the start of our safari and spent our first full day near the Serena Mountain Village. The hotel's employees were gracious and friendly, and all were fluent in English. I recommend arriving at least a day or two in advance of any African safari, to get accustomed to the time zone and ease into the local culture.
We took a three-mile hike around nearby Lake Duluti, with Mount Meru, one of Africa's tallest peaks at 14,978 feet, looming in the background. We spotted 3-foot-long monitor lizards, blue monkeys, fish eagles (similar to bald eagles) and hornbills -- large, noisy birds with wings that make a whoosh-whoosh-whoosh sound as they fly.
We visited the local market in Tengeru, where some 4,000 people were selling or shopping for fruits, vegetables, meat, clothes and electronics. I felt my head was on a swivel as I tried to absorb the colorful surroundings.
The five of us were the only Anglos at the market, and as we walked the aisles with a guide from the hotel, a murmur went through the crowd and all eyes were on us. Many people smiled, and some spoke to us in Swahili. We smiled back and responded with our entire repertoire, "Jambo, habari?" Hello, how are you?
Women selling vegetables asked our guide in Swahili why we didn't buy anything. He answered with a smile and a shrug of his shoulders, "No kitchen."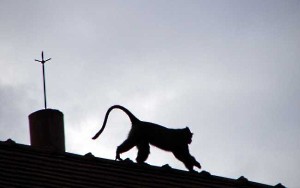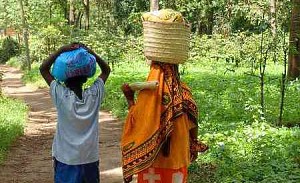 Later that day, we watched a pink and orange African sunset from the lawn of the lodge, amid colorful bougainvillea and the chirping of low-flying bats. In the last, dying light of the day, we caught the fleeting silhouette of a blue monkey scampering along the rooftop, en route to an overnight resting place.
Early in the morning of our second day, we set out for Mount Kilimanjaro. I had arranged a car and driver and mountain guides through a local company called Tanzania Photographic Tours and Safaris.
We'd seen nothing at all on the nighttime drive from the airport, but by daylight this ribbon of pavement was a beehive of activity. Tiny houses and shops with cinder-block walls and rusted tin roofs were separated from the highway by only a few feet of hard-packed dirt, and beside the road there was a great deal of foot and bike traffic. Women balanced bags, pots and bundles on their heads (men do not carry items this way); men pedaled bikes with stacks of grain strapped to the back or pushed carts filled with produce.
The cars and trucks that passed us were old and nearly always packed to capacity with passengers, and even cattle cars towed by trucks were used to transport people in standing-room-only fashion.
The drive to Kilimanjaro National Park took two hours. Kilimanjaro is one of a handful of mountains that draw climbers from around the world, and there are five routes to the top. I had chosen the Marangu route, which starts at 6,400 feet, and arranged for guides to take us to and beyond the first overnight camp -- Mandara -- at 9,000 feet. Climbers generally take five days on Marangu, spending the night at three different camps on the way up and at one camp on the way down. We did not have enough time to try for the summit, but we did want to get a taste of what that climb would be like.
We met our guides, Honest and Dismas, at the gate and were immediately in good hands. Honest had been to the summit of Kilimanjaro more than 60 times; Dismas had made the top on nearly 30 occasions. Today's custom adventure would be 5.5 miles up and 5.5 miles down, plus side trips if we had the energy. I took a deep breath, which at 6,400 feet, didn't feel all that deep.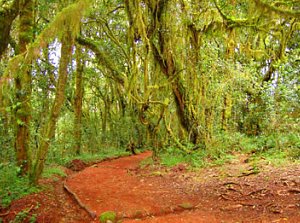 We left the sunshine behind and set off single file into the deep forest, peppering Honest and Dismas with questions as we climbed. They knew the name of every moss-covered tree, of every bird, of the enormous vines with macelike spikes and of all the wondrous flora and fauna we encountered. After a while I was aware of the sound of my own breathing, and the questions were harder to produce. The path had turned rugged and slippery in spots and demanded more attention. Long, steep stretches left the five tourists breathless.
From time to time, we met hikers coming down from above, unshaven, unwashed and tired from their experience but exuberant at being near the bottom and energized by the higher oxygen content of the air. Most had made the summit, but not all, as altitude sickness can halt even well-conditioned climbers in their tracks.
Kilimanjaro has four zones -- forest, moorland, alpine desert and ice cap, in ascending order. We climbed for three hours and spent all but the last few minutes under the thick forest canopy, but when we emerged at the exposed Mandara camp, the temperature was noticeably cooler. We pulled on jackets and caps and walked by the tents and shelters of those who would be staying overnight and venturing on in the morning. At the gate
the temperature had been close to 70 degrees, but here you could see your breath in the cool breeze, and as we ate our box lunches in a wooden shelter, white clouds drifted through the camp.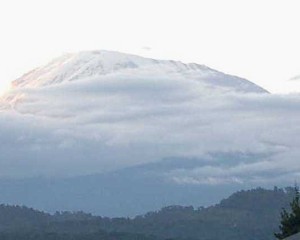 After lunch, we continued up the mountain, through meadows of exotic plants and scrub trees. We reached Maundi Crater, a lookout point that, on a clear day, affords a spectacular view of the frozen summit. Unfortunately, on this day, the top half of Kilimanjaro was wrapped in clouds. We began our descent.
Kilimanjaro isn't known for wildlife sightings, but we were lucky. We saw a blue monkey, five or six black-faced vervet monkeys and two black-and-white colobus monkeys with spectacular, shaggy white tails.
After a two-hour descent, we said goodbye to Honest and Dismas and headed to the lodge. On the drive home, the clouds parted momentarily to show us what we had not seen from the crater -- the snows of Kilimanjaro.
Sincerely,
Alan Fox
Executive Chairman
Vacations To Go
Related newsletters:
Tanzania Safari, Part 1: Gearing Up
Tanzania Safari, Part 2: At First Sight
Tanzania Safari, Part 4: Into the Bush
Tanzania Safari, Part 5: Children of the Maasai
Tanzania Safari, Part 6: Africa's Garden of Eden
Tanzania Safari, Part 7: The Great Migration
Tanzania Safari, Part 8: Adrift Over the Serengeti
Tanzania Safari, Part 9: The Grand Design