Southern Africa Safari, Part 2: Lost and Found in Zambia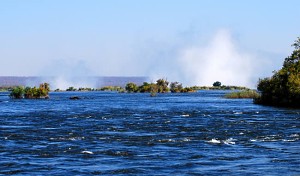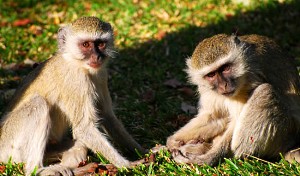 I'm at the Royal Livingstone hotel in southern Zambia, looking out over the Zambezi River. The river is wide here, broken by lush, green islands and glistening blue in the sun. The view is mesmerizing, as interesting as any coastline I can recall. A couple of hundred yards offshore, four hippos wade in still water at the downstream end of an island, protected from currents in the main channels that gather speed as they rush toward the great abyss.
In a few minutes, the water in front of me now will be part of Victoria Falls, one of the Seven Natural Wonders of the World. From my chair in the shade of a knob thorn tree, I can see the river simply drop from sight, perhaps a mile downstream, as it plunges 360 feet into the gorge. Beyond the disappearing river, a white cloud of vapor rises 100 feet into the air. The people of this land call the place Mosi-oa-Tunya, or the Smoke That Thunders.
Looking upstream, I can see zebras grazing, and here I am surrounded by mischievous, black-faced vervet monkeys. One particularly cheeky fellow is perched on the roof of a nearby guest room, munching a candy bar just pilfered from below, where a door was left open. Elsewhere on the property are giraffes, baboons, impalas and an elusive python that the hotel's "removal team" has not been able to locate.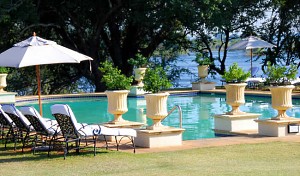 Behind me, the lawn gently rises to the gracious and elegant Royal Livingstone, a five-star resort with large and comfortable rooms, fine dining, butler service, pool and Internet center. I was frankly shocked to find such a luxurious property in this part of the world.
The current is too strong for a swimmer here, not that I've been tempted since I saw the first crocodile a few yards from the bank. Unlike bush lodges and tented camps, which have no walls or fences whatsoever, the Royal Livingstone separates its guests from what might crawl out of the river and carry them back in, with a low electric fence and a 6-foot-wide bed of sharp rocks.
We arrived yesterday on a flight from South Africa. As our bags were unloaded at the airport in Livingstone, we realized that some of the locks had been removed and various compartments in those bags were unzipped. Several DVDs and an iPod were gone, stolen by baggage handlers at Johannesburg airport between the time we checked our luggage and the time our flight departed.
We discussed filing a police report with attendants at the baggage claim area, but since we'd already changed countries that seemed utterly futile. We carried our bags through customs and were greeted by a representative of African Travel. We were glad to have the big-city part of our African adventure behind us and the main course ahead.
Leaving the tiny airport, we realized that the short flight from South Africa had carried us a world away, to a simpler place and time. We rolled down the streets of Livingstone, a small town named for David Livingstone, the British explorer and first European to see Victoria Falls, in 1855.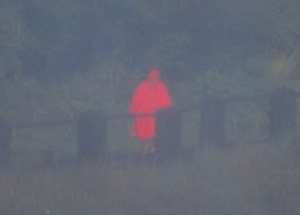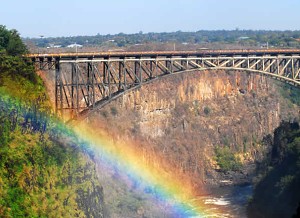 Livingstone was "lost" in the African bush for so long that Henry Morton Stanley was sent to look for him. When they finally bumped into each other at Lake Tanganyika it had been five years since Livingstone had seen another white man. Stanley uttered the famous words, "Dr. Livingstone, I presume."
This morning we set out on a guided tour of Victoria Falls, slapping on raincoats and climbing up and down stairs to reach all the various vantage points available to tourists. Some of these spots were sunny and dry, but in others we found a drenching rain cast off from the roaring sheet of water as it plunged over the cliff. There were even some places where the "rain" rose up to meet us on a strong draft of wind from below.
From one overlook we could see the bridge spanning a gorge to connect Zambia with Zimbabwe. This bridge is famous for bungee jumping, and it towers above a section of the Zambezi River that is widely recognized as offering the world's wildest white-water rafting.
We left the falls and drove to the open-air Maramba market in Livingstone, where our guide, a Zambian named Jeff, slowly led us past hundreds of small stalls offering everything from dried fish and grain to bike repair services and homemade charcoal. In a common theme among the food items for sale, everything was displayed in four different quantities, so no matter how little money a shopper had, he or she could always get something. For example, cooking oil was available in a large (reused) bottle, small bottle, by the cup or even by the capful, the latter just enough for a single meal.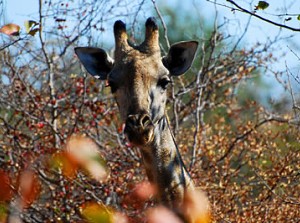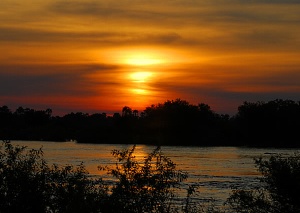 We saw milky beer made from maize, men making sandals out of old tires, and a butcher hacking chunks of red meat off a carcass hanging from a hook. On the beauty aisle, women had their hair braided or shampooed. Several vendors were preparing the midday meal, a porridge called nshima, on charcoal fires.
The bike repair shop was bustling, and judging from the look of things, no bike is ever thrown away in Zambia.
There were thousands of people in the market but only five white faces, so naturally we received a lot of curious stares. A few people spoke to us in English, and some invited us to look at their crops or cooking utensils. We thanked them for their trouble and explained that we had no kitchen.
As in other African markets we've visited, much of the food was covered with flies and the fish section reeked to high heaven, but we weren't there to eat, anyway. In the market you get a glimpse of how the people live, how they treat each other and strangers. I believe that Maramba is well worth a visit.
This afternoon, we leave for a sunset cruise on the Zambezi, on a riverboat called the African Queen. We'll be cruising well upstream from the falls -- engines, don't fail us now. After two days at Victoria Falls, I can't remember which day of the week it is, and more importantly, I don't care. In fact, I don't believe David Livingstone was ever lost at all. It's more likely he found himself here.
Sincerely,
Alan Fox
Executive Chairman
Vacations To Go
Related newsletters:
Southern Africa Safari, Prelude: When Africa Calls
Southern Africa Safari, Part 1: Return to Africa
Southern Africa Safari, Part 3: Surf & Turf in Zambia
Southern Africa Safari, Part 4: Botswana's Okavango Delta
Southern Africa Safari, Part 5: Khwai River Lodge
Southern Africa Safari, Part 6: Savute Elephant Camp