Southern Africa Safari, Part 1: Return to Africa
School's out and so are the lights at my house in Houston. I'm on the road again, finally, kicking the tires and looking for places to recommend to my readers.
Today, I'm checking in from Johannesburg, South Africa, the jumping-off point for tours and safaris throughout Southern Africa. We arrived on a 19-hour Delta flight from Atlanta, which included a refueling stop and mechanical delay on the runway in Dakar, Senegal. That might seem like a long flight, but there was barely enough time to read the paper, eat three meals and a snack and watch all eight feature-length movies on the plane's state-of-the-art entertainment system.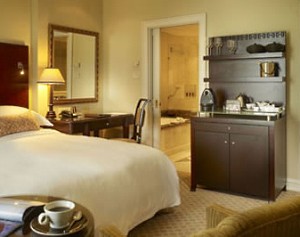 Leaving baggage claim at the Johannesburg airport, we were met by a representative of African Travel and escorted across the street to the Sun Intercontinental Hotel, where we found large and well-appointed rooms and friendly and excellent service throughout. It's a perfect location for travelers in transit, and day rooms are generally available for someone wanting to freshen up during a long layover.
There are more than 8 million people in the greater Johannesburg metropolitan area, and as in all of the world's major cities, wealth and poverty coexist uneasily. With unemployment near 50 percent, crime is a serious problem. It is generally considered unsafe to hail a taxi from the street, and tourists should arrange taxis through a reputable hotel. There are areas of the city -- particularly in Alexandra -- that are unsafe at any time of day or night, so renting a car and simply setting out without a map and a plan is not recommended.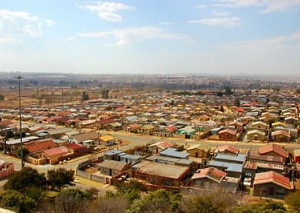 On our first morning in South Africa, we arranged a local driver/guide and minivan through African Travel and made our way to Soweto, the sprawling, all-black township that is home to as many as 4 million people.
We could have started with a wealthy area of the city such as Sandton, but Soweto was the epicenter of the protests that rocked South Africa in the years leading to the collapse of apartheid. We wanted an unvarnished view of life there today.
As we drove, we saw landscape that was reminiscent of Southern California, with rugged, sun-baked hills jutting into view. The sunlight itself seemed even brighter, more intense.
A nationwide strike over wages had become increasingly violent, and protesters had closed the roads in Soweto the prior day, but on this morning we found them open. We saw where former president Nelson Mandela lived during his years in Soweto, and the current home of Archbishop Emeritus Desmond Tutu, who won the Nobel Peace Prize for his nonviolent opposition to apartheid.
We toured a wide range of neighborhoods, including a few new streets where successful business people and professionals have built upscale homes behind brick walls, with landscaped yards and red tile roofs. Most of the neighborhoods we saw were much more modest -- rows of small cinderblock homes with corrugated metal roofs and dirt yards, packed tightly together.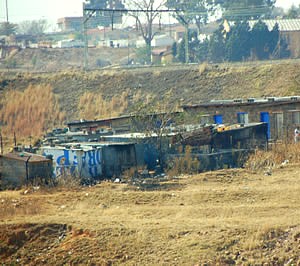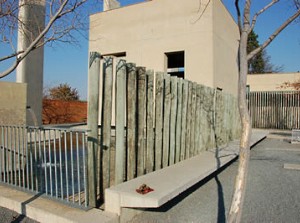 Eventually, we found ourselves in a series of so-called "squatters' camps." We were completely unprepared for the squalor and hopelessness we saw there.
Squatters are the poorest of the poor, homeless families from South Africa as well as refugees that stream continuously south from troubled African countries such as Zimbabwe, Congo and Nigeria. Their shacks are tiny, pieced together from scavenged wood and sheet metal, the roofs held down by stones. Entire families live in single rooms of 60 or 80 square feet. In the camps we saw and others, HIV is rampant, and death is never far away.
It was sunny when we visited, but stinging gray smoke from burning wood and garbage hung heavy in the air. Barefoot children raced to our van, begging for candy, as we lurched down the rutted dirt roads. Our guide produced sweets, and we handed out all that we had. It was indeed a pitiful contribution toward such a massive need.
After this humbling experience, we spent the second half of the day at the Apartheid Museum, which provides a fascinating account of the rise and fall of the crippling policy that brought South Africa to the brink of civil war and ruin. The museum is a must-see for anyone visiting Johannesburg -- moving, chilling and, ultimately, hopeful.
Next, we leave for Zambia, where the real vacation begins. We'll slap on some DEET and go on safari, following in the footsteps of Dr. Livingstone (I presume).
After Zambia, we'll take a bush plane into the most remote areas of the Okavango Delta in Botswana, for an up-close encounter with the animals and people of this unspoiled wilderness.
Sincerely,
Alan Fox
Executive Chairman
Vacations To Go
Related newsletters:
Southern Africa Safari, Prelude: When Africa Calls
Southern Africa Safari, Part 2: Lost and Found in Zambia
Southern Africa Safari, Part 3: Surf & Turf in Zambia
Southern Africa Safari, Part 4: Botswana's Okavango Delta
Southern Africa Safari, Part 5: Khwai River Lodge
Southern Africa Safari, Part 6: Savute Elephant Camp