Cruising with Teens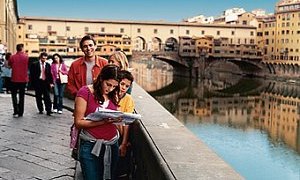 Though my son is past this stage now, I've taken several cruises with a teenager, and I can summarize what I've learned with 5 points:
#1 The best thing about traveling with teenagers is that they are big enough to carry their own luggage.
I'm kidding of course, that's the second best thing. The best thing is that they are old enough to go anywhere you can go, so if you've dreamed of the Mediterranean, Northern Europe, Alaska or even more exotic destinations but held back while the kids were young, now you can go for it.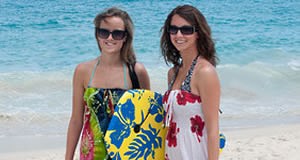 #2 Teens need more space.
It's a little-known fact that the Second Law of Thermodynamics, namely, that all systems tend to spread out and become disorganized, actually refers to a teenager settling into a cruise cabin. Any triple or quad cabin will work for families with one or two younger kids, as the kids will appreciate the coziness, but teenagers need more space and privacy. Space costs money, so here are some considerations for parents who are willing to pay to get more.
Beyond the standard triples and quads, options may include mini-suites, suites, family suites (holding 5 or more passengers, on some ships), adjoining cabins (two cabins with a private connecting door, on some ships), adjacent cabins (next door with no private connecting door) and cabins facing each other across a hall (one oceanview or balcony and one inside).
Every sailing is different with respect to cabin options and availability, so you should confirm details with your Vacations To Go cruise counselor before booking. In general, you will find that mini-suites are a little larger than the largest regular room, and may have a curtain to separate two sleeping areas. Suites and family suites are much larger than regular rooms, and may have separate TV viewing areas, tables or desks, as well as curtains or even doors to separate sleeping areas. A suite may be as large or larger than two standard rooms combined, and may be more or less expensive than two rooms. I advise you to compare both options on the sailing you are interested in.
If prices are similar, the main considerations in comparing a suite to two rooms are comfort and privacy. A large suite will have a spacious feel and will accommodate the entire family or new friends in a sitting area. Separate rooms will provide more privacy, but less ability to track your teens' comings and goings.
If you are considering two rooms, keep in mind that adjoining rooms and adjacent rooms allow you to monitor the level of noise emanating from your teens' room at night, while cabins across the hall from each other will not.
One final note, adjoining cabins and family suites are in short supply and in very high demand during the summer, spring break, and at Christmas, so I recommend booking 4-6 months in advance in order to have the best odds of getting one. Click here for a complete list of ships with adjoining cabins, and click here to see a list of ships with family suites.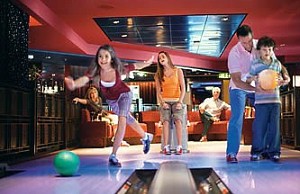 #3 Teens may not buy in upfront, but they'll enjoy it when they get there.
Every spring for years, I scoured thousands of cruise departures on our website and research ships, itineraries and ports to identify the ideal summer vacation. Then, I'd send up a trial balloon to see how quickly and vigorously it was shot down by my son, who consistently claimed he would rather stay home and hang out with his friends.
Despite his protests, we cruised every year, and at some point during every cruise, he admitted he was glad that he came. He has never been ready to leave the ship at the end of a cruise.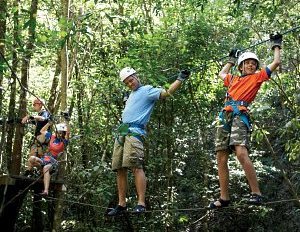 #4 Teens need more freedom from you than you need from them.
The enlightened parent wants to cruise with a teenager in order to enjoy a great family vacation and to explore the world together.
The enlightened teenager may have a different goal for the cruise, for example, to get as far away from one's parents as is humanly possible, and stay there.
Fortunately, a cruise allows an easy compromise. Whenever possible during my son's teen years, we chose active shore excursions that we could enjoy as a family. Onboard, we let our son set his own agenda -- with a curfew and an occasional check-in.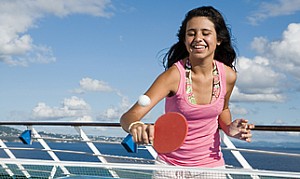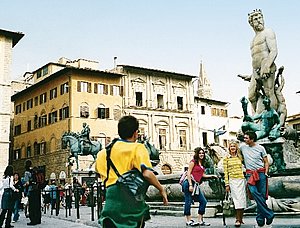 #5 Any ship will do.
The bigger, newer ships will have more teens, more teen facilities and more planned teen activities. However, it's been my experience that teens need this structure less than young children -- they'll find a way to meet each other and have fun, with or without special programs. So choose your cruise based on the quality of the ship, the itinerary and the price, and don't worry too much about teen programs.
For me, being the parent of a teenager was like nearing the end of a great cruise: I was amazed at how fast it was going by, not ready for it to be over, and thankful to have been along for the ride.

Click here to search for family cruises that meet your needs. Or, for more information about programs and facilities aboard the cruise lines that really cater to teens, just click the cruise line name below.
Sincerely,
Alan Fox
Executive Chairman
Vacations To Go
Related newsletters:
Cruising with Kids Under 7
Cruising with Kids Ages 7-12