Cruising with Kids Ages 7-12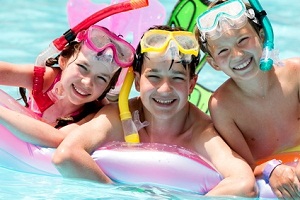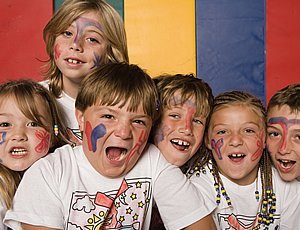 Children between the ages of 7 and 12 will find the right cruise ship full of opportunities for adventure and making friends -- all without ever leaving the vessel. Most (but not all) cruise lines want to attract families with kids, but the lines listed below are the best of the best:
Each of these lines offers a full slate of activities onboard and youth counselors who are good at getting everyone involved. Talent shows, face painting, jewelry making, scavenger hunts and ping-pong tournaments are among the popular activities offered. For specific information, click any cruise line name.
Some children may not wish to participate in the kids' programs, and may prefer to stay near their parents. We always took our son to the kids' area at the beginning of each cruise, met the counselors and stayed a while to play some games, to help him feel at home.

Nevertheless, until he turned 10 or 11, he was only an occasional participant in kids' planned programs, by his own choice, and we never insisted that he join. After that time, he spent more onboard time with new friends and in planned youth activities than he did with his parents.

In contrast, my 5-year-old niece couldn't wait to get to the kids' area on her Princess cruise one summer, and fussed at her parents whenever they came to pick her up.

Whether or not you make use of the kids' programs, here are a few suggestions for cruising with kids between the ages of 7 and 12: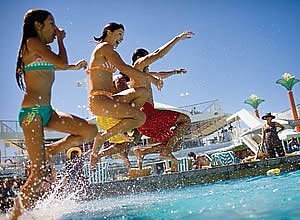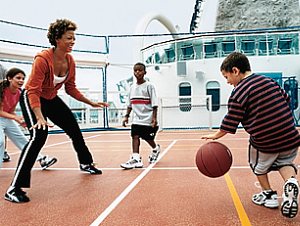 #1 Find the ship's "fun places." The sooner your child feels at home on a cruise ship, the better, so drop that carry-on in the stateroom when you board and start your fun-seeking tour right away.

#2 Help your child find a friend. Since most kids are shy meeting new kids in an unfamiliar environment, it's often up to the parents to seek out the parents of other kids and make introductions. Then it's as simple as inviting the new friend to play ping-pong or shuffleboard, to break the ice. We did that several times for our son, and found the other parents were as relieved as we were to have found a buddy for their child to play with.

#3 Bring Walkie-Talkies. At some time during this age range, you may want to experiment with Walkie-Talkies onboard.
On a day at sea, when your child wants to play ping-pong for 4 hours in a row, you may not feel compelled to stay and watch if you can check in frequently from elsewhere on the ship. Of course, the age at which a child can or should be allowed to roam varies, and it's up to parents to decide whether a child has earned a bit of unsupervised freedom and can enjoy it without infringing on the enjoyment of others.

#4 Try to see it their way. You never know what might strike a kid's fancy, but in this age range, it might be something as simple as beds that fold down from the walls, checking out videos and DVDs to watch in bed at night, or ordering from the adult menu at dinner.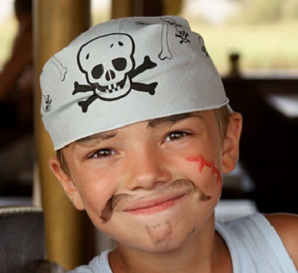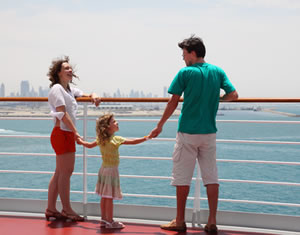 On the flip side, you might be surprised at what would worry your child. One possibility is the lifeboat drill. Imagine being 7 years old, ready to head out at sea, watching your parents put on life jackets and march to the life boats for instructions. Make sure your child knows it's just a thing that happens on all ships, and make the pre-drill preparation in the room fun. I always pretended that I could not figure out how to get my life jacket on. (At least I claimed I was pretending.)

Cruises aren't just the most enjoyable vacations for families with kids, they are also a terrific learning experience. It's one thing to learn about the world in a geography class, and quite a better thing to step foot on the soil of a new country and experience first hand what is different, and what is the same.

Parents can influence what is learned by selecting the itinerary and shore excursions. Snorkeling the crystal clear, blue water of the Caribbean brings your child face-to-face with an amazing undersea world. Hiking, sea-kayaking or fishing in Alaska immerses your child in nature that is awe-inspiring and pristine. Port calls in the Mediterranean, the British Isles or Northern Europe may seem like an endless procession of old museums, churches and castles to a 10-year-old, but that visit will bring the history books to life when he or she returns to class.

Over the years, many parents have written me to share their favorite stories about cruising with kids. I heard from one mom who brought a magnetic dart game for her two little boys to play in the cabin, only to find that since the walls were metal, the darts stuck to just about everything in the room. The boys are grown now, and the mother is a grandmother, but the memory still brings a smile to their faces.
Click here to search for family cruises that meet your needs.
Sincerely,
Alan Fox
Executive Chairman
Vacations To Go
Related newsletters:
Cruising with Kids Under 7
Cruising with Teens