Antarctica Cruise: On My Way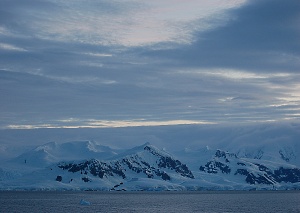 On the bottom of the world, there is a place so cold and so unchanging that time itself seems to have frozen still. A land millions of square miles in size -- larger than all of Europe -- with no permanent human population.
In the winter, small groups of researchers hunker down in tiny outposts, cut off by the weather from the outside world for weeks at a time, fighting cabin fever and endless night and enduring temperatures as low as 129 below zero (F).
But in the summer, sunlight comes again and with it a trickle of tourists to stare awestruck at nature on its grandest stage, pristine and majestic.
The land is Antarctica, the coldest, windiest, highest-elevation continent of them all. By the time you read this, I should be on my way.
Antarctica rarely makes the news from a travel standpoint and when it does, the news is almost always bad. In 2007, the expedition ship Explorer struck an iceberg (or was struck by an iceberg, depending on who you ask) and sank, but not before all passengers and crew abandoned ship. After a few hours adrift, they were plucked from their lifeboats, uninjured.
In early December 2008, the expedition ship Ciudad de Ushuaia ran aground and began taking on water. All 89 passengers were transferred safely to a Chilean navy ship using motorized rubber rafts called Zodiacs. Last I heard, the ship had been refloated and was under way on its own power to a port for repairs.
Barely a week later, Bear Grylls, star of the Discovery Channel's adventure series Man Vs. Wild, broke his shoulder and collarbone during his own Antarctic expedition and had to be medically evacuated. Chalk one up for Wild.
All of which helps to explain the reaction I get every time I tell someone I'm going to Antarctica:
"Why on Earth would you want to do that?"
For the sheer, unadulterated joy of it, of course!
The short Antarctic cruising season runs from November to mid-March, with about 75 total departures on English-language cruise ships. I chose a January 14 departure, near the middle of the Antarctic summer, when the coastal areas experience almost 24 hours of daylight each day and temperatures can soar into the 40s (F).
There are two types of passenger ships that visit Antarctica: 1) traditional cruise ships like Regent's Seven Seas Mariner, which get close enough for a great view of the coast while offering a full range of amenities and entertainment; and 2) much smaller expedition ships that can go where the large ships can't and launch rafts to take passengers ashore.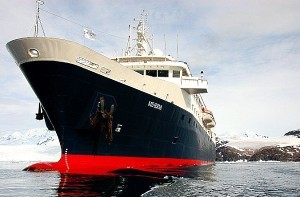 I'll be traveling on the top-rated expedition ship, the Minerva, on the next-to-last time the ship will be chartered by Regent Seven Seas. The Minerva carries 198 passengers and stretches 436 feet in length.
When we face Drake Passage, known for the roughest water on Earth, I'll be grateful for every foot, and for her stabilizers and ice-strengthened hull.
Drake Passage is the long stretch of open water between the tip of South America and Antarctica, where the Atlantic and Pacific oceans meet. A one-way crossing takes two days and nights, and the storms and wave heights there are legendary.
We'll be sailing from Ushuaia, Argentina, the southernmost city in the world, and stopping first in the Falklands. Then we head south to spend four days in Antarctica and will take Zodiacs to the shore each of those days, weather permitting.
We've been told to bring waterproof pants, and I assumed the spray encountered on these rafts was the reason, but they may also prove useful when we get our first glimpse of the waves in Drake Passage.
I'll check in with a report and photos from the land of the penguins, and in the meantime, the 500+ employees of Vacations To Go are standing by to help you plan your own adventure.
Sincerely,
Alan Fox
Executive Chairman
Vacations To Go
Related newsletters:
Antarctica Cruise, Part 1: Paying Drake's Toll
Antarctica Cruise, Part 2: Landing in Antarctica
Antarctica Cruise, Part 3: The Age of Explorers
Antarctica Cruise, Part 4: Antarctica's Wild Side
Antarctica Cruise, Part 5: Wonderland on Ice
Antarctica Cruise, Part 6: A Place Like No Other