Antarctica Cruise, Part 6: A Place Like No Other
"Men go out into the void spaces of the world for various reasons. Some are actuated by love of adventure, some have the keen thirst for scientific knowledge, and others again are drawn away from the trodden path by the lure of little voices, the mysterious fascination of the unknown."
Ernest Shackleton, Antarctic Explorer
---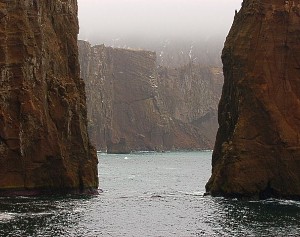 Sometime overnight we turned north along the Antarctic Peninsula, the beginning of a long journey home for which none of us was truly ready.
On a gray and blustery morning, we called on Deception Island, the remnants of an ancient volcano that collapsed into itself, eons ago.
The island is aptly named, as it appears to be a solid land mass from the outside when in fact it is a snow-covered cone rising from the sea.
For many years, passing mariners failed to notice a narrow opening (Neptune's Bellows) through the circle of rock, leading to a sheltered harbor. As we sailed into that harbor today, we found the ghostly remains of an abandoned whaling station on a black, volcanic shore.
We took Zodiacs to the beach and hiked for a mile or so before climbing to the top of the cone for a better view of the entire caldera and the ocean outside. Then it was back to the landing site, time to fulfill (or back down from) a promise (more of a dare) that the men in our group had made to each other in a warmer, sunnier time.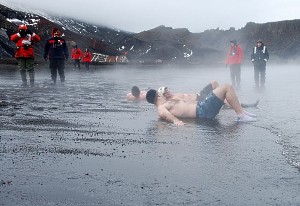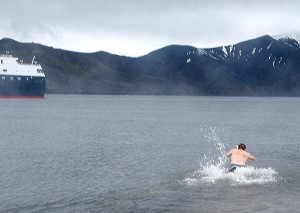 We'd been told on board the Minerva that there was a small area of sand at the water's edge that was heated by geothermal activity and warm to the touch. It was windy with an air temperature in the low 30s (F) and dark clouds staring down as we stripped to swimming trunks and hurried to that spot on the sand.
Completely flat and out of the wind, we were perfectly comfortable there on the ground, though even lifting one's head was chilly. We decided to take it up a notch, and waded into the freezing water up to our knees for a picture before quickly returning to the beach and the warm spot of sand to recover.
I'm not sure exactly what was going through my mind -- it's possible the memory has frozen solid -- but the next thing I knew I was walking back into the water by myself, up to my ankles (brrrrr), knees (yikes), waist (ye gods) and into a headfirst dive and total immersion (AAAAIIIIEEEE!!!!).
For someone who lives in a near-constant state of distraction, I found all of my attention instantly focused.
I surfaced and took a couple of strokes toward shore before finding the bottom and as I trudged in the coarse, black sand my body began to feel heavy and dull. In moments I was standing on the beach, soaking wet in the frigid wind, and it actually felt good just to be out of the ocean!
Watching the Discovery Channel series Deadliest Catch, filmed in the Bering Sea, I learned that a fisherman going overboard without a wetsuit would be dead from hypothermia before a crab boat could turn around to pull him out of the water. Now I know exactly how that water stings.
The wives in our group were of course too intelligent to accept this "all-in" challenge, so it was up to my VTG colleagues Emerson Hankamer and Troy Bringle to follow my lead, and they did not waver. All told, two dozen passengers went into the water and about 10 became completely immersed.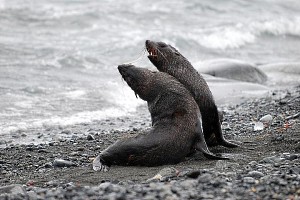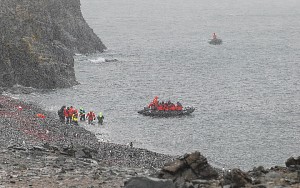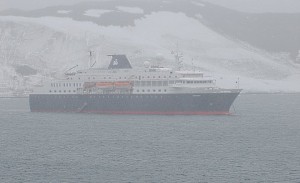 Then it was on to Half Moon Island, our final stop at the bottom of the world, a crescent-shaped strip of land with a chinstrap penguin rookery on one end and play-fighting fur seals near the other. During our trip from Deception Island, a storm front moved in, and we came ashore with powerful winds and driving rain.
The island was muddy in some places, and the rocks were wet and slippery. We held our hoods to keep them from blowing off our heads in the gusts and did our best to keep our backs to the horizontal rain. Halfway through our excursion, the rain turned to swirling snow, adding a touch of authenticity to the scene and obscuring our view of the Minerva, anchored just offshore.
Our group of seven lingered to the end, not wanting to lose a second of our time in Antarctica, until we were herded to the last Zodiac by the guides. As we climbed on the raft, we could see that the rising waves were testing the strength of the Zodiac handlers.
After granting us safe harbor for four days and nights, Antarctica was spitting us out, the perfect ending of a great adventure.
In a few months, the skies will grow darker still and the ice and snow will cover every sound and cove and bay we have seen this week. Today is but a taste of what will be.
Back on board, we set sail for South America and the captain announced that those who use motion-sickness medications might want to start looking for them. We did.
Soon, we will reach the roiling waters of Drake Passage, and the storm is intensifying. Snow is piling up on the decks, and the Minerva has begun to creak and groan with the heavy swells.
That's fine with me. I did not want to find the ocean calm inside Drake Passage, and I have no desire to return from Antarctica with a tan.
I've found that it simplifies things tremendously if I travel with the goal of seeing things as they are and not as I wish they were.
It's not for me to say who should come to Antarctica and who should not, but it is my hope that those who have read these accounts will know whether they are ready. Some will hear the call and others won't.
I want to thank the talented captain, staff and crew of the good ship Minerva. It takes a special kind of person to live gracefully on the sea, away from family, and those who brave these treacherous winds and waters deserve extra recognition.
We did not walk in the footsteps of Amundsen or Scott or Shackleton or Oates, but we stood in their long shadows, and made footprints of our own.
Tomorrow, we shall feast on the Drake -- or vice versa -- and tonight, she prepares a ride that we will remember.
Alan Fox, somewhere in Drake Passage
Sincerely,
Alan Fox
Executive Chairman
Vacations To Go
Related newsletters:
Antarctica Cruise: On My Way
Antarctica Cruise, Part 1: Paying Drake's Toll
Antarctica Cruise, Part 2: Landing in Antarctica
Antarctica Cruise, Part 3: The Age of Explorers
Antarctica Cruise, Part 4: Antarctica's Wild Side
Antarctica Cruise, Part 5: Wonderland on Ice