Antarctica Cruise, Part 5: Wonderland on Ice
"I called to the other men that the sky was clearing, and then a moment later I realized that what I had seen was not a rift in the clouds but the white crest of an enormous wave."
Ernest Shackleton, in a small, open boat in Drake Passage
---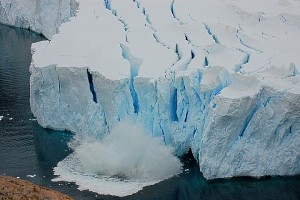 We had just crept to the edge of the rocky lookout point when we heard the crack of a glacier calving and turned our cameras to the source. Directly below and across from us, a 100-foot-tall wall of blue ice had separated and was collapsing into the water, its thousand-year-long march to the sea complete.
After a great splash, the ice disappeared for a few moments, and then almost in slow motion, chunks of all shapes and sizes bobbed to the surface and spread across the small cove.
No words were spoken but a dozen cameras clicked continuously, a comical kind of background music that I had come to expect whenever spectacular photo ops presented themselves.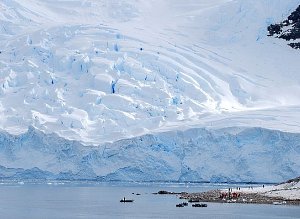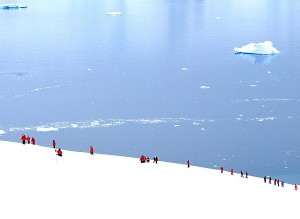 We had hiked a quarter of the way up a snow-covered mountain in Neko Harbour, sticking to a trail of hard-packed snow blazed by excursion leaders from the ship. The day was cloudy with a temperature in the mid-30s (F) but we were overdressed and hot from the exertion.
I desperately wanted to continue to the summit for a chance to see the interior of the Antarctic Peninsula and not just the mountainous coastline, but our guides had politely ruled that out. This was as high as we would be allowed to go.
I backtracked across the snowy bluff until I was a couple of hundred feet from the others, removed my red parka and plopped down beside the trail to cool off and drink it all in. But the surface of the snowcap had melted and refrozen in a solid sheet, and I immediately began to slide down the hill. I pounded the ice with my boot and dug in on the third or fourth try, before picking up much speed, and pulled myself back up the slope to flat ground.
Suddenly I understood why we weren't continuing to the summit.
I turned my gaze to the harbor below me, speckled with icebergs and lined with glaciers, and the lovely, miniature Minerva anchored offshore. We had visited a gentoo penguin colony with chicks and prowling skuas at the start of our climb, and the passengers who had passed on the hike and remained there were now little red dots by the water's edge.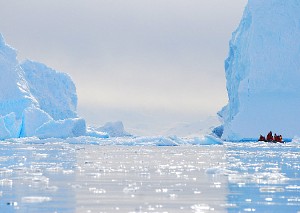 My lofty perch provided a very different perspective from what we had experienced the day before in a dreamlike place called Cierva Cove, where icebergs are brilliant blue and as tall as skyscrapers.
In our Zodiac, we had scraped across the floating chunks of ice (brash) and paused to marvel at 10-foot-long leopard seals lounging on bergy bits (small icebergs).
Majestic mountains of snow and ice enveloped us, dwarfing our tiny raft, but more than any other aspect of Cierva Cove, it was the light -- ethereal and beckoning -- that I will remember.
Oh, and one other thing -- the penguins in Cierva Cove can fly.
Before you make up your mind whether I am telling the truth, at least take a look at today's slideshow.
If Antarctica can bewitch with its beauty, it can also be deadly.
It was 94 years ago -- almost to the day -- that ice formed on the sea and trapped Ernest Shackleton's ship, Endurance, as he made his way toward Vahsel Bay and the first planned trans-Antarctic expedition.
For 10 months, including a long, black winter, the vessel drifted slowly with the ice pack. When the spring came, shifting ice crushed the ship and sank it, but not before Shackleton had evacuated the crew, sled dogs, three lifeboats and provisions.
They lived in tents on the floating ice for five months longer, supplementing their dwindling food stock with seals and penguins (and sled dogs), ever on the move to avoid splits and fissures in the floe that might have engulfed the entire party.
They drifted northward past our current position, on the opposite side of this narrow peninsula, until the ice finally broke up, allowing the launch of the lifeboats.
What followed was the greatest epic of survival in the history of Antarctic exploration, and included a crossing of Drake Passage in a small, open boat.
I read the book Endurance: Shackleton's Incredible Voyage by Alfred Lansing in preparation for this journey, and I strongly recommend it.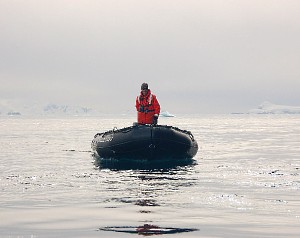 This is our next-to-last day in Antarctica, and we have settled into a routine that includes two daily shore excursions, lectures, excursion recaps, trips to the bridge, trips to the spa and meals in the ship's formal and buffet dining rooms. Lunch is served inside and alfresco, on the aft pool deck.
I have been impressed by our approachable and communicative captain, Giovanni Biasutti, our energetic expedition leader, Suzana D'Oliveira, and the many experts and specialists onboard. The staff and crew are friendly and competent, the ship is comfortable and orderly and well run.
Since leaving Drake Passage, the seas have been calm and sometimes glassy, like sailing in a lake. But the weather here is temperamental, as Ernest Shackleton once learned, and there is a storm approaching.
Our Antarctic wonderland is about to change.
Alan Fox, somewhere in Antarctica
To see photos from this portion of my cruise, please click here.
For a list of Antarctic cruises on expedition cruise ships such as the Minerva, which take passengers ashore, please click here. (Going forward, Vacations To Go will book customers on the Minerva in Antarctica via A&K as Regent Seven Seas is ending their charter program.)
For a list of Antarctic cruises on traditional cruise ships, which take passengers close but do not allow them to go ashore, such as the Regent Seven Seas Mariner, please click here.
Sincerely,
Alan Fox
Executive Chairman
Vacations To Go
Related newsletters:
Antarctica Cruise: On My Way
Antarctica Cruise, Part 1: Paying Drake's Toll
Antarctica Cruise, Part 2: Landing in Antarctica
Antarctica Cruise, Part 3: The Age of Explorers
Antarctica Cruise, Part 4: Antarctica's Wild Side
Antarctica Cruise, Part 6: A Place Like No Other