French Polynesia Trip, Part 1: I'm Never Going Home!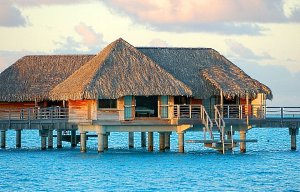 Ia Orana.
In case you don't speak Tahitian, that's "hello," pronounced yo-rah-na, more sung than spoken.
I am checking in this week from an overwater bungalow at the Intercontinental Bora Bora Resort and Thalasso Spa in Bora Bora, French Polynesia. I am here for three nights before a flight to Tahiti and a cruise on the 5-star Paul Gauguin.
I'd just like to say up front that I am never going home. Mom, if you're reading this, please send money. Lots of it.
My family arrived on the island of Tahiti three days ago after an eight-and-a-half-hour flight from Los Angeles. It was our first flight on Air Tahiti Nui, and the crew did an excellent job. We spent one night on the island before a short, scenic flight to Bora Bora.
French Polynesia consists of 118 islands and atolls scattered across 2 million square miles of the South Pacific. The islands are divided into several groups -- the Society Islands and Marquesas among them -- and the best known and most populous of all the islands is Tahiti.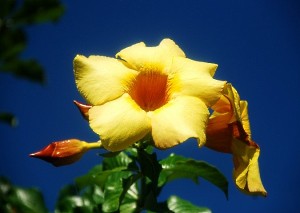 While Hawaii is north of the equator, French Polynesia is about the same distance south of the equator.
More than two-thirds of all the people in French Polynesia live on the island of Tahiti, which may be why the entire region is sometimes referred to as Tahiti.
French Polynesia is a "collectivity" of France, not exactly part of France but not quite independent either. The official language is French, but Tahitian and other Polynesian languages are also spoken. The people have their own local government, and they also vote in French presidential elections and send representatives to the French National Assembly and the French Senate.
All matters of justice, education, security and defense are provided by the French government, which also provides financial assistance. The local population is almost evenly split between those who want to remain a collectivity and those who seek complete independence from France.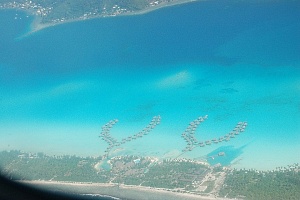 While French Polynesia is famous for spectacular natural beauty and a near-perfect climate, the region has a rich and colorful past. We'll be crossing the paths of Magellan, Cook, Bligh and Darwin, among others.
I'll be back with reports and slideshows from Bora Bora and the Paul Gauguin, but I'm afraid they will have to wait. From where I am sitting right now, I can see about a dozen shades of blue water. It's time to step off the deck and disappear into one of them.
To read more about the Paul Gauguin, please click here.
Sincerely,
Alan Fox
Executive Chairman
Vacations To Go
Related newsletters:
French Polynesia Trip, Part 2: Beautiful Bora Bora
French Polynesia Trip, Part 3: Aboard the Paul Gauguin
French Polynesia Trip, Part 4: A Look Back
French Polynesia Trip, Part 5: Bora Bora and Moorea