Crystal Cruise to Southeast Asia, Part 2: Exploring Indonesia
I've wanted to see Bali and Singapore for many years, so I was thrilled to find the world's best cruise ship visiting both places on the same sailing. As an added bonus, the cruise began at one and ended at the other, making it easy to spend a few extra days in each place.
In between these two world-famous destinations, our cruise visited Semarang and Jakarta in Indonesia and Kuala Lumpur, Penang and Langkawi in Malaysia. Here are a few impressions for anyone considering a cruise to this part of the world.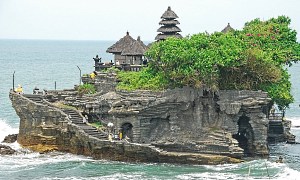 Bali is one of more than 17,000 islands that make up Indonesia and is the country's most popular tourist destination. While 87% of Indonesians are Muslim, 92% of Balinese are Hindu, which forms the basis of their unique culture and everyday life.
Balinese Hinduism is influenced by Buddhism and animism, the belief that everything in nature -- animals, plants, rocks, streams, wind, thunder, etc. -- possesses a soul or spiritual essence. There are 20,000 temples and shrines on the island, not counting the private temples in almost every house, where families make daily offerings to their ancestors and the gods.
Bali is mostly lush and green with rice paddies that attest to the ample rainfall and mountains topping out at almost 10,000 feet. Our flight arrived just ahead of a storm, and we spent the first day and a half hunkered down at the Banyan Tree Ungasan, on the southern coast.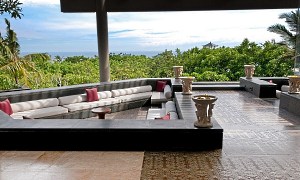 As you can see from the photos, there are much worse places to be confined on a rainy day.
When the storm subsided, we ventured out to Tanah Lot Temple, a popular attraction on the coast, and to Ubud, the main tourist and cultural center on the island. There we photographed long-tailed macaques in the deep and dark Sacred Monkey Forest Sanctuary before heading to Mount Agung, an active volcano that is the highest point on the island and considered sacred by many Balinese.
The locals I met lived up to their billing as kind and gentle people. They smile when they are happy or sad or frustrated or upset. Upon meeting someone, the Balinese place their hands close together in a prayer-like position and bow their heads, with smiles so sincere I felt my own greeting could use a makeover.
At the root of this inner peace is the Balinese philosophy of Tri Hita Karana, loosely translated as Three Causes of Happiness. It is through the pursuit of harmony with God, with man and with nature that our lives become balanced and serene.
I'm sure to get some mail over this but I think Bali's reputation for beaches is a bit overblown. The island is certainly scenic, with some great surfing spots that draw Aussies and others from around the world, but the beaches I saw do not compare well to the best of the Caribbean, Hawaii, French Polynesia or The Seychelles, and probably many other places.
It is her people that make Bali worth a visit.
After our hotel stay in Bali, we boarded the Crystal Symphony and sailed to Semarang, Indonesia, on the island of Java. With 135 million inhabitants, Java is one of the most densely populated places on Earth, a condition that visitors will not fail to notice.
Semarang's main claim to fame is that it is the closest port to the world's largest Buddhist shrine, Borobudur, about 45 miles away. Intrigued by onboard lectures, we resolved to make the trip.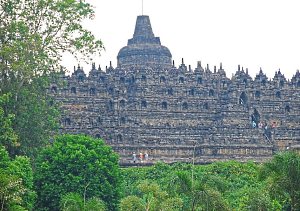 With ferocious traffic most of the way, our shore excursion would not have been possible in a single day if not for our police escort in both directions. Sirens wailing and lights flashing, he waved cars in front of us to the side of the road and led our convoy of motorcoaches down the wrong side of the street to pass ubiquitous traffic jams. The trip still took two and a half hours, each way.
Borobudur was built of stone in the ninth century and stands nine levels high with a large dome on the top. Each level represents a different stage of enlightenment. Buddhist pilgrims begin at the base of the temple and follow a path through stairs and corridors around and up the monument, passing dozens of statues of Buddha and more than 2,600 reliefs that tell an extended narrative.
For anyone curious about Eastern religions, the place was worth the trip.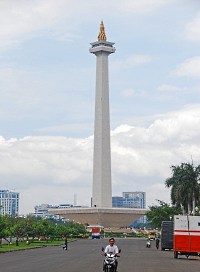 Next, we sailed to Jakarta, Indonesia's capital city. There are 28 million people in the greater metropolitan area and at any given time, I estimate that at least 27.9 million are stuck in traffic.
We visited the National Museum, the National Monument and the "old city," built by the Dutch when they ruled the country. We also passed rivers and canals choked with garbage, breathed smog that had blocked the sun and stared out our windows at heartbreaking slums.
And if the city did not already have enough problems, it's sinking at a rate of 5-20 centimeters per year. At the current pace, large sections of Northern Jakarta, including the airport, could be underwater in 20 years. Government officials are considering building a dam to hold back the sea.
Back in the industrial port of Jakarta, we climbed aboard the gleaming white Crystal Symphony and let the events of the day sink in. I like to think that every problem has a solution, but Jakarta's will take some time to sort out.
Sincerely,
Alan Fox
Executive Chairman
Vacations To Go
Related newsletters:
Crystal Cruise to Southeast Asia, Part 1: On Board Crystal Symphony
Crystal Cruise to Southeast Asia, Part 3: Malaysia and Singapore