Crystal Cruise to Southeast Asia, Part 1: On Board Crystal Symphony
Last year, the six-star Crystal Symphony completed a $65 million redesign of every public area and stateroom on the already spectacular ship. This year, the readers of Condé Nast Traveler named her the Best Cruise Ship in the World. Does the vessel really live up to that billing? Alan Fox recently had the opportunity to sail the ship and his report follows.
---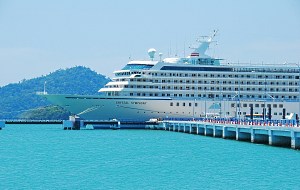 A decade has passed since my first cruise on the Crystal Symphony, and I wrote at the time that the onboard experience was the finest I had ever encountered. I recently revisited this grand vessel on a voyage in Southeast Asia and I am pleased to report that she is, quite literally, better than ever.
From the moment we stepped on board in Bali, Indonesia, we felt welcome and pampered. And by the time we disembarked in Singapore, we knew we would genuinely miss our smiling room stewardess, Sheetal, our energetic butler, Teo, and our always-happy-to-accommodate-special-requests dining room waiter and assistant, Ilija and Murat. Plus the many other kind people who took such good care of us.
The folks at Crystal know that a happy crew makes for happy guests, and their hard-working staff seems to enjoy what they do. They also have an uncanny way of anticipating what you need or want in advance and making sure it's there before you ask for it.
While the redesign has helped the Crystal Symphony set new standards for luxury and beauty, the service and the food are now where they were then, simply off the charts.
********************************
What is it about being on vacation in general -- and at sea in particular -- that whets the appetite?
I'm lucky if I take time to swallow four ounces of yogurt for breakfast on a work day, but somehow on a cruise I find room for eggs, bacon, potatoes, tomatoes, smoked salmon, fruit, sweet rolls and juice.
That's about 10% of what is available in the Lido Café on the Crystal Symphony but still a lot to work off, so it helps to become familiar with the bikes, treadmills and dumbbells in the Fitness Center. On sea days, we found it emptied out near lunchtime, so we'd slip in around 11:30 to pay our dues.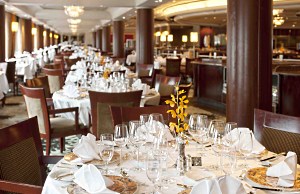 It's always more fun to travel with friends and on this cruise we were accompanied by two dear friends from Houston. Most evenings, we came early and stayed late at the Crystal Dining Room, enjoying the fine food and the conversation with our waiters.
Every few days, we ventured out to try one of the other dinner venues: the incredibly popular Silk Road and The Sushi Bar, which was 100% booked for the entire sailing prior to embarkation, or Prego, the stylish Italian restaurant.
A word to the wise: Book your dinner reservations at these specialty restaurants as soon as we book your cruise.
The Crystal Symphony boasts numerous inviting places to linger over coffee or cocktails, including the sophisticated, panoramic-view Palm Court and the clubby and intimate Avenue Saloon. The centrally located Crystal Cove became our go-to spot for a pre-dinner sundowner and meeting up with other passengers.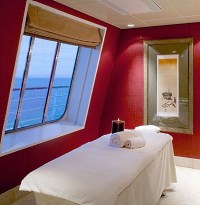 My favorite venue on the ship was, of course, the Crystal Spa. There is nothing more relaxing than a massage at sea, and the therapists on Crystal are among the very best.
Like many people, I work at a computer all day and over the years I have developed a few posture-related aches and pains that help me rationalize spa treatments as mostly medicinal in nature.
My wife indulges me in this dubious characterization and in return, I encourage her to visit the ship's boutiques to buy anything she "forgot to pack." In biology class, we called this symbiosis.
Crystal's enrichment lectures are always strong and topical, and with so many guests eager to learn about Buddhism, Hinduism and the history and culture of the places we were visiting, there was not an empty seat in the house at any lecture I attended. The cultural anthropologist from Outward Bound, Jim Rowe, was particularly interesting. He told us that the Indonesians have a smile for every emotion and occasion, which I can now confirm.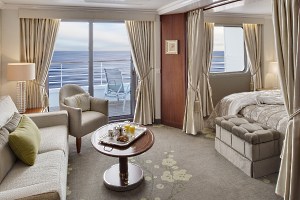 We enjoyed the nightly entertainment in the Galaxy Lounge, especially two brilliant performances by the UK pianist/singer/comedian Jon Courtenay. And when the day was done, we loved retreating to the luxury of our stateroom, with décor that was fresh and new and attractive.
Crystal is now all-inclusive, meaning that gratuities, fine wines and premium spirits are included in the upfront price. With a capacity of 922 guests and 566 crew, the Crystal Symphony's guest-to-crew ratio is among the best in the cruise industry.
I had been in the travel business more than 15 years before I had the opportunity to sail a six-star ship, and they are never inexpensive, but considering all that is included, they are by far the best value available in luxury travel.
Add to that our ability to offer discounts up to and exceeding 75% from the brochure rate, and they are that much more attractive.
Crystal Cruises has won more "World's Best" awards than any other cruise line, from a long list of consumer and trade travel publications. The readers of Travel + Leisure magazine have named Crystal the World's Best Large-Ship Cruise Line for 17 consecutive years, though ships holding around a thousand guests are hardly "large" by industry standards.
The readers of Condé Nast Traveler named the Crystal Symphony the Best Cruise Ship in the World in 2013, in their "medium-sized ships" category. The Crystal Serenity was rated second.
It's not a surprise to me that this cruise line dominates whichever category it is in.
Sincerely,
Alan Fox
Executive Chairman
Vacations To Go
Related newsletters:
Crystal Cruise to Southeast Asia, Part 2: Exploring Indonesia
Crystal Cruise to Southeast Asia, Part 3: Malaysia and Singapore