Egypt Trip, Part 3: A Commanding Presence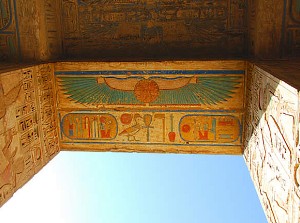 I see dead people. About a dozen of them. Wrapped in crumbling, faded rags and laid out face up, under glass.
Their shriveled bodies are labeled, but I don't recognize most of their names.
There is one gentleman in the room, however, that even in death seems to rise above the rest. He is Ramses II, widely regarded as the greatest pharaoh of them all.
I'm coming to you this week from the Royal Mummy Room in the Egyptian Museum, a room that makes me feel, more than any other I have ever entered, that the distant past is perhaps not so very far away.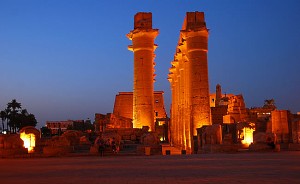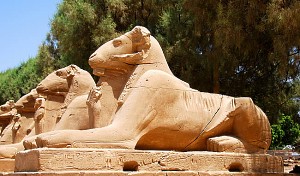 It is barely conceivable that I am staring at the earthly remains of Ramses II, the ruler whose likeness adorns more Egyptian monuments and temple walls than any other.
He built the twin temples at Abu Simbel and the mortuary temple Ramesseum, and expanded the temples in Luxor and Karnak.
He battled the Hittites and conquered the Shardana (pirates of the Mediterranean), and is responsible for the world's first international peace treaty, a copy of which is on display at the United Nations.
Some (but not most) believe that Ramses II was pharaoh during the exodus of the Hebrews from Egypt. In the movie The Ten Commandments, it was Ramses II who was portrayed so unfavorably by Yul Brynner.
He was husband to at least eight wives (most famous, Nefertari) and fathered 100 children. He reigned for 67 years, longer than any other pharaoh, and lived into his 90s.
And all of this happened more than 1200 years before the birth of Christianity.
One other thing -- I'm not making this up -- Ramses II still looks like the kind of person that gets things done today. Decisive, engaged, multitasking.
And yes, I have been out in the hot sun a lot lately, in case you were wondering.
The Egyptian Museum is stacked to the rafters with statues and artifacts from temples, tombs and crypts, and mummies of people, birds and animals, including enormous Nile crocodiles. I'm glad we took our Nile cruise before visiting, as so much of what is here came from places we have seen.
There are 120,000 objects on exhibit and an untold number more still boxed and stored in hallways, nooks and crannies. An all-new Grand Egyptian Museum is currently under construction, and some artifacts, including the most-prized Tutankhamun Exhibit, will move there upon completion.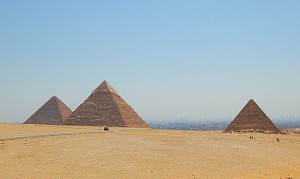 Since arriving in Cairo, we have visited the Great Pyramids and Sphinx of Giza, which seem impossibly huge even by today's construction standards.
The largest of the pyramids, the Great Pyramid of Cheops, was finished around 2690 B.C. and is one of the Seven Wonders of the Ancient World. It stretches 448 feet into the sky, with a base that covers an area of 13 acres.
As with each pyramid, this one was built to house and preserve the mummified body of a single pharaoh, for eternity.
Unfortunately, tomb robbers didn't have much trouble finding these pyramids and others built around the country, and many were looted within years of completion, eventually leading the pharaohs to build underground tombs in what came to be called the Valley of the Kings.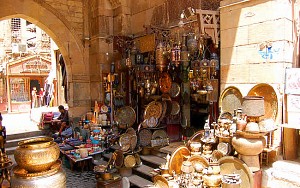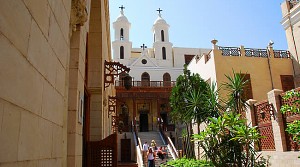 We've also visited the Khan El Khalili, one of the oldest bazaars in the world. The narrow alleys house hundreds of shops selling almost anything imaginable, and one of the many restaurants, El Fishawy, has reportedly been open continuously, day and night, for more than 200 years.
We dropped by the City of the Dead, a walled four-mile-long cemetery filled with tombs, crypts and coffins, and more than one million living residents! The burgeoning poor population and nationwide housing crisis have resulted in an influx of people who sleep in tombs, dry laundry on strings hung between headstones and use grave markers as desks.
In Old Cairo, we toured an ancient Christian church, a mosque and a synagogue that are all within easy walking distance of each other. Before the advent of Islam in the 7th century, Christianity was the most widely practiced religion in Egypt. Today the country is about 80-90% Islamic and 5-10% Christian, with a tiny Jewish community and numerous other religions represented.
From what we have seen, the various religions coexist peacefully under Egypt's moderate government.
Tomorrow we'll return to the New World, which will undoubtedly seem even newer than when we left.

We will bid a fond farewell to Hany, our friend and Egyptologist extraordinaire, who has guided and enlightened our group as we toured this land that he loves so dearly. More than a little of his appreciation for antiquity and the Golden Age of the Pharaohs has rubbed off on us.
I will remember the sands of the Sahara, the hot sun on my face, and the life-giving Nile. And I'll remember my visit to the Royal Mummy Room and this mute fellow before me who was called Ramses II.
When much of the world was in darkness and chaos, he ruled in prosperity and erected magnificent structures that are still celebrated 31 centuries later.
Time and Hollywood have not been kind to him since, but for that brief moment when his eyes were open, he saw his empire shine brighter than all the rest.
For a list of all African Travel tours and safaris, click here.
For a map of Egypt and the Nile, click here.
Sincerely,
Alan Fox
Executive Chairman
Vacations To Go
Related newsletters:
Egypt Trip, Part 1: Wonders of the Nile
Egypt Trip, Part 2: Scenes from the Nile