Egypt Trip, Part 1: Wonders of the Nile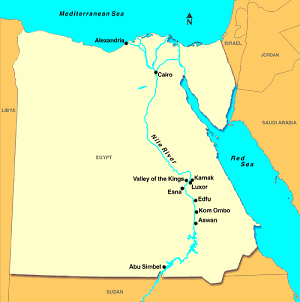 We began our initial descent into Cairo just after 8am, as the pilot announced that the temperature on the ground was already 90 degrees and climbing. Our overnight flight from Johannesburg had taken us from one end of the African continent to the other, and from winter to summer -- in the Sahara Desert. The view from the plane was of sand, for as far as the eye could see.
We'd been traveling for nearly 24 hours since leaving Savute Elephant Camp in Botswana, but our excitement at finally reaching the Land of the Pharaohs was impossible to contain. Ahead of us that great, ancient city was coming to life as it had every day for more than a thousand years.
Cairo has one of the world's busiest airports, and as we walked into the terminal from the tarmac, we found a sea of people swarming a handful of immigration desks. Most visitors (including Americans) must have a visa and obtain it upon arrival, but before we could look for the end of the line, a representative from African Travel stepped forward.
"My name is Mohammed, like half the men in Egypt," he joked, "but you can call me Mido."
In a matter of minutes, Mido whisked us through immigration, introduced us to our guide for the entire week, an Egyptologist named Hani, collected our bags and walked us through customs. Mido seemed to know everyone of importance in the airport.
Outside, our private shuttle was waiting along with our driver and an armed, plainclothes policeman, dressed in suit and tie. Hani explained that Egypt goes to tremendous lengths to ensure the safety of tourists. In addition to a high-profile police presence at tourist attractions and hotels, the government frequently assigns officers to accompany groups of tourists, at no charge.
Cairo is a sprawling city of 17 million people, but after 10 minutes I wondered how so many had survived the traffic. At first I thought that drivers changed lanes with reckless abandon, but then I realized "lanes" don't really describe what happens out there. It's more of a free-for-all. Our driver was quite careful but more than once I braced for a sideswipe that never came.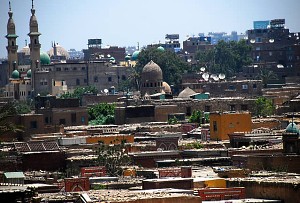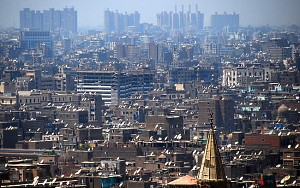 Not surprisingly, most of the buildings in Cairo are old, and in some areas they seem to be collapsing from the top down. Along the elevated freeway, we saw countless four- to six-story buildings crowned with nothing more than a section of wall and some protruding rebar.
Hani explained that taxes are higher on finished buildings than on unfinished ones, so top floors are frequently left incomplete -- permanently. It's curious that a tax loophole that resulted in such an eyesore would continue to exist for decades.
Then again, I'm not sure that explains all the structures we saw, as many of the top floors seemed to be covered with debris, as if entire sections had come tumbling down. All were still occupied, as evidenced by the laundry hanging out of windows in lower floors.
Another visual curiosity -- Cairo has not been wired for cable TV, so satellite dishes sprout like mushrooms from the top of almost every structure, even those most in need of repair.
Most of the streets we passed were teeming with people, and the majority of men were dressed casually in slacks and shirts. There were a significant number dressed in the traditional ankle-length robes, or galabeya, and a much smaller number in business suits.
Almost all the women we saw wore colorful scarves over their heads, long-sleeve blouses and ankle-length skirts or slacks. Some wore black burqas, loose-fitting head-to-toe garments with a narrow slit -- sometimes veiled -- for the eyes.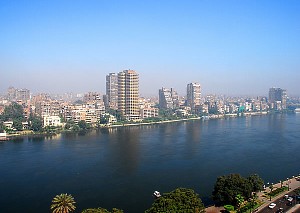 After our long journey, our first day in Egypt was intentionally unscheduled, which I highly recommend. African Travel had booked us at the high-rise Conrad International Hotel, a beautiful 5-star property on the Nile, with pool, full health club and spa and two excellent restaurants. I stood on my balcony for a very long time staring out at the world's most famous river.
There was a bank in the hotel, and a barber shop, much to my son's chagrin.
We went to bed early and were up before dawn for a trip back to the airport and a flight to Luxor, a couple of hundred miles south of Cairo. There we boarded our riverboat, the Sonesta Sun Goddess, the home base for our Nile River cruise.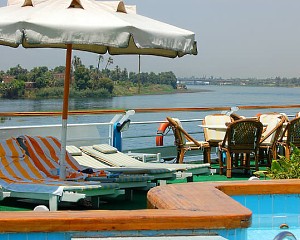 The Sun Goddess is one of five Sonesta ships on the Nile, all of which offer 3- to 7-day voyages between Aswan and Luxor. It's not new, but it is well-maintained and well-run and appeared to be among the best of the many ships we saw.
The boat has four decks, including the observation deck on top with pool and bar, a dining room, lounge, Internet room, conference room and a couple of shops. All 62 cabins and suites have windows.
The Sun Goddess was only about half full, as summer is not the ideal time to visit Egypt. True, it is sunny, but then it is always sunny, and in July we found daily high temperatures between 115 and 120 degrees. We carried water with us always, and Hani arranged for most of our walking explorations to happen in the early morning, late afternoon and after sunset.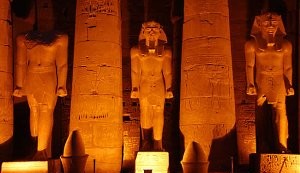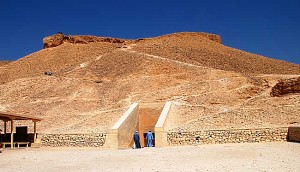 We spent two days and one night on the boat in Luxor, a place with archaeological sites that rival any on Earth. We visited Luxor Temple and Karnak Temple, massive structures built more than 3,000 years ago, and crossed the Nile to the Necropolis, which includes the Valley of the Kings and the Valley of the Queens.
For a period of nearly 500 years, from the 16th to 11th century B.C., Egyptian Pharaohs were buried in the Valley of the Kings, in elaborate tombs dug out of solid rock. Some of their wives and children were buried in the nearby Valley of the Queens.
Pharaohs began working on their tombs as soon as they were crowned, as elaborate tributes to themselves and to the gods that would welcome them to the afterlife. The walls of these multi-room tombs were engraved with hieroglyphs and brightly painted.
When their bodies had been mummified, the rulers were sealed in their tombs along with treasure and various possessions that would be needed in the next world. Many of these tombs are amazingly well preserved and nine are lit and open to the public, including the most famous of them all, the tomb of Tutankhamun.
It is a smallish tomb, most likely because he died at a young age, before it was completed. Somehow tomb robbers lost track of it after some minor artifacts had been removed, and it was buried and forgotten for centuries. When it was finally unearthed in 1922, the tomb of Tutankhamun contained a wealth of artifacts including a solid gold funeral mask that is often used to symbolize the greatest treasures of Egyptian antiquity.
By this stage of the trip, we had come to truly appreciate the knowledge and storytelling ability of Hani, our private Egyptologist, whose enthusiasm over the subject was infectious. In flawless English he read and interpreted the hieroglyphs in temples and tombs, and he peeled back layer upon layer of history in a way that kept things interesting.
We learned that ancient Egyptian laws were based on a common-sense view of right and wrong and the pursuit of truth, order, balance and justice. Egypt produced the world's first architects, mathematicians, scientists and doctors, and the first massive buildings made of stone. Egyptians were the first to use columns of stone to support temples and the first to pave roads. They treated the human body to prepare it for the afterlife. They produced the world's first wine and beer.
"After 5,000 years, there is nothing new under the sun," he once said, and after listening to his arguments, I could not disagree.
For a list of all African Travel tours and safaris, click here.
For a map of Egypt and the Nile, click here.
Sincerely,
Alan Fox
Executive Chairman
Vacations To Go
Related newsletters:
Southern Africa Safari, Part 6: Savute Elephant Camp
Egypt Trip, Part 2: Scenes from the Nile
Egypt Trip, Part 3: A Commanding Presence