Adriatic Adventures, Part 2: Cruising in Croatia: Opatija, Trogir and Dubrovnik
The article below was written by Emerson Hankamer, CEO of Vacations To Go.
---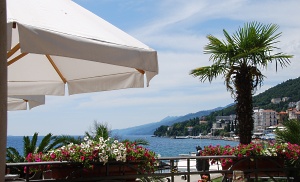 The unknown has always intrigued me, particularly with travel. I still get excited the night before arriving in a new port and still can't wait to step off the tender to start exploring. I keep tacks on a map marking the places I've been, and more than anything else, I like adding new places to my list!
To all fellow port collectors who share this passion, Windstar makes building your list easy with cruises to off-the-beaten-path ports -- many accessible only by yacht -- in the Caribbean, the Greek Islands, the Mediterranean, Costa Rica, the Middle East, Northern Europe and the Panama Canal.
You'll be comfortable along the way too, since all three Windstar ships have a generous crew-to-passenger ratio, great food, interesting wines, a cheerful staff and comfortable staterooms and suites, including recently introduced spa suites, which offer luxurious microfiber linens, spa robes, an orchid flower arrangement, a specialty pillow menu, a daily fresh fruit platter and free spa experiences. Each vessel also has a retractable water-sports platform from which guests can swim, snorkel, sail, kayak, windsurf or simply lounge on a raft.
Our next port of call, Opatija, is located in a secluded corner of the Croatian coastline. Grand hotels from a bygone era line the rocky shore and forested hills rise above them, ringing the bay. It's a spectacular sight.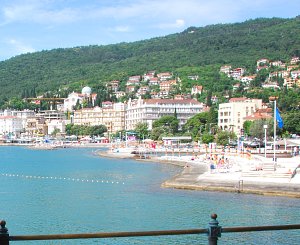 I'm not the first foreigner to appreciate Opatija's beauty -- the city has attracted tourists since the late 1800s, making it one of the oldest tourist destinations in Croatia. Opatija is also a climatic health resort, meaning physicians send patients here because they believe the pristine summer climate will restore their health. Note to self -- ask my doctor for this prescription!
Our tender docked at Villa Angiolina, a palatial home built in 1884 by a wealthy merchant who imported exotic plants from around the world. My dad and I were debating whether we were in fact looking at a California sequoia tree when my boys reminded me to keep moving toward the beach. We followed a wide promenade along the shore past more magnificent old hotels to the town's lido (swimming pool and sunbathing area), where we relaxed in the shade with other families while the kids swam.
When I was 10 my family visited Croatia. I vividly remember the water in the city of Split -- it was crystal clear, revealing colors below the surface that inspired generations of painters. The Adriatic in Opatija is just as pure.
My dad and I enjoyed a beer while we tried to identify the languages spoken by tourists around us and then guess their nationality. Our wild speculation ended when my 4-year-old introduced me to his new swim-mate, a boy from Slovakia wearing an identical Disney bathing suit. His parents and I laughed at the coincidence, and I learned from them that many vacationers in Opatija are from Eastern European countries like Romania, Hungary and the Czech Republic.
We ended the day with our now-habitual seafood lunch on the terrace of a hotel overlooking Kvarner Bay, and then strolled back to the tender, stopping en route for a gelato.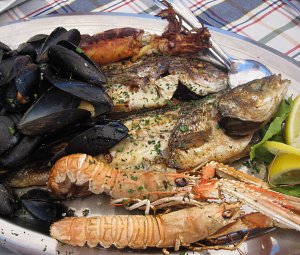 While sailing south to Trogir, our next port, we dined al fresco at Le Marche, the Wind Surf's French seafood restaurant located on the highest deck aft. That evening, under full sail, on the open deck, with wine flowing freely and a cool sea breeze tousling my wife's hair, we watched the sun set on the Adriatic and unanimously agreed we had found heaven on earth.
We awoke to another flawless day, ready to explore Trogir's castle and labyrinthine city center. Throughout history, the Greeks, Romans, Hungarians, Venetians and Hapsburgs have each ruled Trogir, and every culture has added to the city's charm. For the best experience, leave your map at home and walk until you are truly lost in the maze of cobblestone alleyways. You'll discover interesting churches, museums, stores, art galleries and plenty of great restaurants. We selected one located just outside the old town, facing the marina. Our group voted this seafood feast -- complete with a triple-scoop chocolate gelato finale -- the best of the cruise.
Our waitress, a friendly local, spoke Croatian, English, German and even Spanish -- self-taught by watching Peruvian soap operas. How she picked up that channel in the little town of Trogir remains a mystery to me.
That night we sailed farther down the coast toward the southern tip of Croatia and our final port, Dubrovnik, no doubt following sea lanes used by merchants for hundreds of years. Seafarers frequented Dubrovnik to trade and for safe haven from pirates. High stone walls were built around the city -- 20 feet thick in some places -- and turrets were filled with cannons to discourage unfriendly visitors. Luckily they welcomed our tender.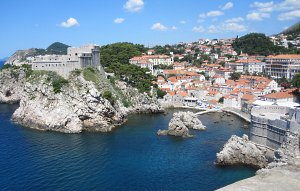 We motored into the harbor and walked through the gate into the historic city center, which was buzzing with activity. Marching bands, street musicians, restaurants, cafes, churches, museums -- Dubrovnik offers something for every visitor. I heard the view atop the walls was best so we headed straight for the stairs, and the steep climb was worth it. Walking atop the walls, gazing out to sea and imagining steely-eyed defenders staring down pirates is my best memory of the city.
Venice, Rovinj, Opatija, Trogir and Dubrovnik have left their indelible imprint on this traveler from the New World, as has Windstar by making the voyage possible and quite simply, so pleasurable.
To learn more about Windstar, click here.
Sincerely,
Emerson Hankamer
CEO
Vacations To Go
Related newsletter:
Adriatic Adventures, Part 1: Windstar, Venice and Rovinj, Croatia