Adriatic Adventures, Part 1: Windstar, Venice and Rovinj, Croatia
The article below was written by Emerson Hankamer, CEO of Vacations To Go.
---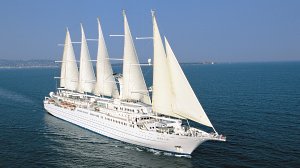 I grew up windsurfing on the Texas Gulf Coast and never lost the love of harnessing the wind. There is something about being on the open sea, waves swelling beneath you, wind propelling you forward, that I find exhilarating.
So when I first saw a photo of a Windstar vessel with its billowing white sails and sleek bow cutting through the waves, there was no mistaking the calling -- I had to get onboard. As I write this in June of 2010, many years later, I can hardly believe I am finally on the MSY Wind Surf.
MSY stands for motor-sailing yacht, and Windstar Cruises operates three of them. The Wind Star and Wind Spirit are identical, accommodating 148 passengers, while the Wind Surf is larger, holding 312 passengers, and all three can cut their engine, raise their sails and ride the wind at will.
Windstar offers a casual, laid-back cruising experience; there is no formal dress code, passengers can chat with officers on the open bridge and dining al fresco under the stars is available every night, weather permitting.
Windstar visits exotic, off-the-beaten-path ports that larger cruise lines do not, which appeals to me since I try to visit at least one new port every time I cruise. My itinerary includes an overnight in Venice and four ports in Croatia -- all new to me: Rovinj, Opatija, Trogir and Dubrovnik -- before returning to Venice.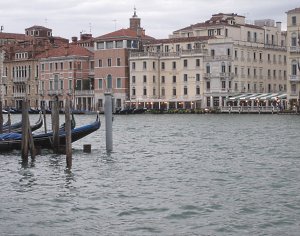 Overnighting in a city like Venice is popular because it provides passengers time to rest from their flight and to explore. The first evening my wife, sons (4 and 6), and parents-in-law wanted to recuperate on the ship, so my dad and I walked into town for dinner, heading for the Antica Trattoria Poste Vecie, a restaurant recommended by his Venetian friend.
Our 15-minute stroll from the ship to dinner stretched to an hour in Venice's maze of alleyways, and we learned that the shortest distance between two points is a canal, not a street. The two masters of directions quietly admitted to each other that we should have brought a map, and I thanked a local saint that our group had been too tired to join us. Eventually we arrived and enjoyed a classic Mediterranean dinner of steamed mussels, grilled fish, Italian wine and old stories -- definitely a Father's Day to remember.
The following day our group took a water taxi to St. Mark's square to start a guided tour of Venice. While my boys stalked pigeons, we got to know our guide, Ana, a friendly, multilingual Venetian. Ana works for Trafalgar Tours, an escorted tour company that provides land tours of Europe and is renowned for their exceptional guides. Trafalgar does not typically provide guides for one-day tours but made an exception so I could see first-hand just what they do -- and I was duly impressed.
After visiting St. Mark's Basilica and the Doge's Palace, Ana wrapped up our tour with a visit to the backstreets of Venice. Her most interesting comment -- Venice is made up of more than 100 tiny neighborhoods, each with its own church and tight-knit community, and her grandmother lived her entire life without ever leaving hers, not even to visit St. Mark's Square!
Historically Venetians were anything but homebodies. From the 13th century to the 17th century, the Republic of Venice was a dominant maritime power, controlling commerce in the Adriatic Sea and trading with cultures as far east as China -- think Marco Polo. Wealthy Venetian merchants built many of the exquisite buildings visitors marvel at today.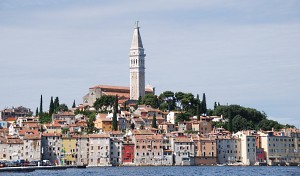 I chose an itinerary to Croatia expecting something different from Italy, but I awoke in our first port, Rovinj, to sun-splashed, terra-cotta tile roofs and slender cypress trees framing picturesque stucco villas. Was I on the Italian Riviera? In a way, I was. Rovinj was ruled by Venice from 1283 to 1797, and the Italian influence is still strong. Even the town council is officially bilingual.
After a leisurely breakfast on deck, we walked right onto a tender -- there are never any lines on a Windstar ship -- and motored over to the town, eager to begin exploring this Mediterranean gem.
While I love many things about Europe, medieval towns are a favorite. As we walked on cobblestones, so smoothed by centuries of footsteps they felt wet underfoot, I tried to imagine what life was like in Rovinj 500 years ago -- the simple routine of fishermen, the buzz of haggling merchants, the battles, the tragedies and the triumphs.
I was so deep in my daydream, so lost in time, that I barely heard the cries of "Gelato! Gelato!" It won't surprise any parents that the first Italian word my sons learned in Venice was "ice cream." I bought them yet another round -- though for much less than Venetian gelato since everything in Croatia was less expensive than in Italy -- and we walked down to the harbor.
While strolling past the cafes and seafood restaurants, we found the last thing I'd expect to find in a tiny town on the Croatian coast -- a summer salsa festival. My in-laws, who had traveled all the way from South America, laughed at the irony of hearing Latin rhythms and watching Croatians and European tourists shake it on the quay.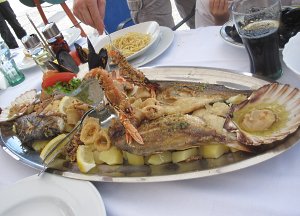 By that time we had built up quite an appetite exploring Rovinj and decided to reward our heroic effort with a seafood platter at a portside restaurant. After our first bites of fresh local fish, mussels, squid and prawns, washed down with an Ozujsko, the local beer, we knew Croatia was the right call.
To learn more about Windstar, click here.
For a list of all Trafalgar Tours, click here.
Sincerely,
Emerson Hankamer
CEO
Vacations To Go
Related newsletter:
Adriatic Adventures, Part 2: Cruising in Croatia: Opatija, Trogir and Dubrovnik