Crystal Cruise, Part 2: On board Crystal Serenity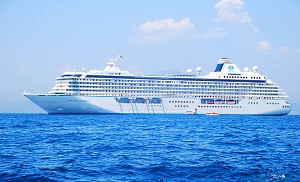 I am writing today from my balcony aboard the Crystal Serenity, sailing somewhere in the Ionian Sea. It's warm in the late afternoon and to the west, the sun is glistening white off the water.
In Homer's epic poem, The Odyssey, Odysseus spent 10 perilous years in these waters, trying to return to his home in Greece following the Trojan War.
Odysseus was the architect of the Trojan Horse ruse, which led to the fall of Troy and ended the decade-long war. Later, he was captured by the Cyclops, and escaped by blinding him with a wooden stake.
If you listen carefully, you may find that the summer breeze still carries the enchanting sound of the Sirens, who hoped to lure Odysseus onto the rocks.
As a fallback, the equally beguiling string ensemble is playing in the Palm Court.
Today is a sea day, time for the ship to shine, and none shine brighter than the Crystal Serenity.
Some who have never cruised assume they would be bored on sea days, but most folks enjoy a day of cruising mixed into every two or three days in port, just to relax and let it all sink in.
I generally find that there is not enough time to do everything I want to do on a day at sea, and this afternoon I missed a movie and a photography class that sounded intriguing.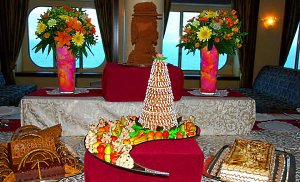 Between the paddle tennis, lecture, trip to the fitness center, extravagant lunch buffet, the best spa at sea and tonight's Broadway-style show, I'll barely have time to read my emails from the office.
Tonight is the second of three formal nights on this 12-night voyage. Most cruise ships have become more casual in recent years and I may be out of the mainstream on this subject, but I still enjoy formal nights. Maybe it's because I don't get dressed up very often in everyday life, or maybe I just want to get my money's worth from my tuxedo after finally splurging on one a few years back, but I look forward to seeing everyone decked out in the main dining room.
The Serenity has two specialty restaurants, Prego and Silk Road. The former is Italian and the latter serves Asian delicacies and sushi. Order family-style to sample as many different dishes as possible.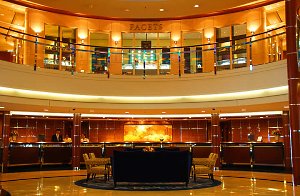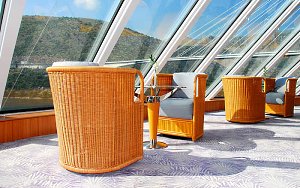 On a day like this, it is crystal clear that the officers and crew are one of this ship's greatest attributes. They are friendly, attentive and eager to ensure that every task is handled to perfection. They're also most interesting to talk to and a rare example of how to bring people of varying backgrounds, religions, nationalities and educations together in a system that performs at the highest level. No one runs a better ship than the folks at Crystal.
At the heart of Crystal's extraordinary service is the industry's lowest turnover rate, in itself a testament to how well the crew is treated. These are jobs that require long hours each day and long months away from loved ones, yet employees from top to bottom seem genuinely happy to be here. Crystal understands that a happy crew makes happy guests.
Crystal leads in other ways as well. In addition to a long string of awards as the best cruise line overall, Crystal has won "best" awards for its dining and spa and took home the Port of San Francisco's first-ever environmental award.
The Crystal Serenity, launched in 2003, and the Crystal Symphony, launched in 1995, feature the highest quality furnishings and onboard service that is unsurpassed on land or sea. Both vessels are spacious and uncrowded, and there are no lines at restaurants or tenders.
At each port, Crystal offers shore excursions that appeal to guests with a wide range of interests and physical capabilities. Some ports feature Crystal Adventures -- unique, once-in-a-lifetime experiences such as a private helicopter excursion over Italy's Amalfi Coast or your own Ferrari or Maserati to drive through Tuscany.
If that's not exciting enough, try a flight in a MiG fighter on a Crystal cruise with a stop in St. Petersburg, Russia.
As a group, the 6-star ships are not known for having many young families or children on board, but Crystal attracts the greatest number and has the most facilities and activities for children of all ages. That's one of the reasons I chose this ship for my three-generation family reunion, and our son and his friend have made several new friends on board.
It's also worthwhile to note that children under age 12 pay 50% of the minimum fare when accompanied by two adults, and you will occasionally find "Kids Sail Free" promotions on our site.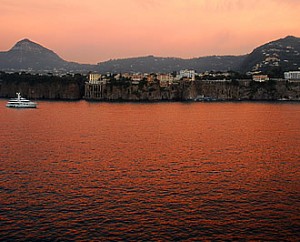 At lunch today, I heard other passengers talking about Crystal's World Cruise, which I believe is the ultimate vacation of our time. Only a few generations ago, it took luck to survive the risks and hardships one endured on a trip around the world, but now you can experience the far corners and fascinating cultures of our planet safely and in high style. It does require an abundance of free time and a considerable amount of money.
Here's a peek at upcoming World Cruise itineraries and pricing offered by Crystal as well as other lines. Vacations To Go offers the lowest price in the market and, in many cases, pre-paid gratuities and other free amenities. Our World Cruise Specialists are standing by at 888-381-4642.
I'll sign off now from my own Crystal odyssey, where I'm eager to see what the chef has in store in the dining room.
The delights just keep coming, and like the Trojans, I never look a gift horse in the mouth.
Sincerely,
Alan Fox
Executive Chairman
Vacations To Go
Related newsletters:
Crystal Cruise, Part 1: Mallorca, Rome and Sorrento
Crystal Cruise, Part 3: Greece, Croatia and Italy