Crystal Cruise, Part 1: Mallorca, Rome and Sorrento
The ground began to shake on August 20, and the earthquakes continued for four days. Some people fled, but unfortunately, many stayed behind.
Then, in the afternoon of August 24, Vesuvius erupted in a fury of fire from the center of the Earth. A plume of smoke shot nearly 20 miles upward, spreading to block the sun and the sky, turning the day to night.
For 19 hours, hell rained down on this corner of the Roman Empire, burying 1,000 square miles under as much as 75 feet of volcanic ash and cinders. Every living thing perished.
The year was AD 79, and when the air finally cleared, Pompeii, Herculaneum and nearby villages were...gone.
---
Buon giorno!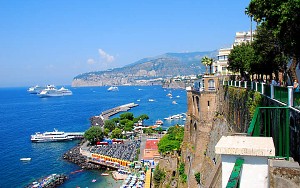 I'm checking in today from the Gulf of Naples in Italy, where the Crystal Serenity is anchored near the lovely seaside town of Sorrento. Small pleasure boats dot the deep blue water in this natural harbor, and hills covered with olive and orange trees rise from the sea. Along sections of the coastline, there are sheer cliffs jutting 50 to 100 feet out of the water, crowned by hotels and restaurants, apartments and private homes.
I'm just back from a tour of the town, which dates to the seventh century BC. Narrow pedestrian-only streets are lined with small shops and cafes, overhanging balconies are filled with bougainvillea and the few sand and rock beaches are covered with fun-seekers of all ages on this warm and sunny day.
It took 120 years to restore Sorrento following that blast from Vesuvius, and five major eruptions since that time have damaged the city but none have shut it down. Residents have shown the same indomitable spirit that spread the Roman Empire throughout the entire Mediterranean and to what are now the countries of Germany, France, Spain and England.
Pompeii was buried and lost for nearly 1,700 years before its accidental discovery in the 18th century. Along with the stunning island of Capri, just offshore, Sorrento and an excavated Pompeii are the prime tourist destinations in the region.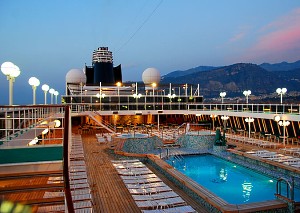 This is my fifth day aboard the Crystal Serenity, a ship so extraordinary I actually feel guilty talking about her when I am here and you're not.
There are only 13 six-star vessels in the world, and at 68,000 gross registered tons and carrying up to 1,080 passengers, the Crystal Serenity is the largest.
Imagine traveling the world with your every need anticipated, on a sparkling vessel with superb food and service. Each morning, a fascinating new city appears off your balcony, begging to be explored. Passage is effortless and exhilarating, even to the most remote corners of the planet. You have imagined a Crystal cruise.
I chose the Crystal Serenity because I knew the ship would be perfect for a three-generation family celebration. My son and his best friend are celebrating new high school diplomas, and this cruise is a graduation gift of the best kind -- a continuing education.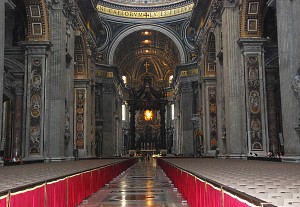 My mom and dad are celebrating a respite from a spate of health problems that have prevented them from traveling. Her dream of seeing Rome helped keep my mother alive this past year, as her corps of doctors would attest. Yesterday that dream was realized, as she knelt in the world's largest church -- St. Peter's Basilica in the Vatican -- with a long list of names on her prayer list.
As for me, the celebration is about having us all together again on the open sea, and if this should prove to be our last voyage, I wanted to make it a trip to remember.
We arrived 10 days ago from Houston, with pre-cruise stays in Paris and the Spanish island of Mallorca. The weak US dollar was painfully evident at every turn.
I'm almost ashamed to admit we ordered a room-service breakfast for two the first morning in Paris at the Hotel Lutetia -- eggs, bacon, a small bowl of fruit, a basket of bread and two coffees -- all for only US $120!
It would have been smarter to pick up a croissant or pain au chocolat at one of the many patisseries nearby, and stop for coffee at a cafe.
Despite the prices, it was good to be back in Paris. We used hop-on, hop-off double-decker buses (Les Cars Rouges) and the subway (Metro) for sightseeing and ate in charming, informal brasseries.
This was my first visit to France since pro-America Nicolas Sarkozy was elected president, and we were treated courteously everywhere we went. But then I also visited during the height of the tension between the US and French governments and never felt unwelcome.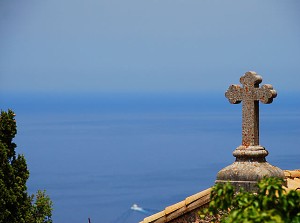 Mallorca is spectacularly beautiful and just a bit more affordable. Located southeast of Barcelona in the Mediterranean, the island boasts clear blue water and hundreds of beaches. Mountains rise to almost 5,000 feet, and much of the island is covered with groves of olive and almond trees. The medieval village of Valldemossa is a must-see excursion in the mountains outside the main city of Palma.
Then it was on to Barcelona, where we boarded the Crystal Serenity for our 12-night cruise and sailed first to Portovenere, on the northwest coast of Italy. For our excursion, we took a smaller sightseeing boat along a section of coastline known as the Cinque Terre, where lovely and historic seaside towns welcome tourists in the summer and rows of grapes line the hillsides. We sampled the local wine and frutti di mare at an open-air trattoria by the water.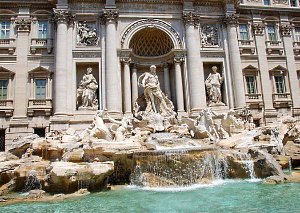 Next we were off to Civitavecchia, the main port serving Rome, and a full day in the Eternal City. The sheer number of sites to be seen and the scale of the Colosseum, the Forum, the Sistine Chapel and St. Peter's Basilica make this one of the world's most fascinating cities.
There's far too much to see in a single day, so we tried boosting the odds we'd return by tossing a coin into Trevi Fountain.
Tonight we sail for Greece and a rendezvous with the ancient Olympians. I'll sign off now from my perch in the tranquil Palm Court of the Crystal Serenity, gleaming white in this idyllic harbor.
Arrivederci, Sorrento. May Vesuvius sleep for centuries.
For more information about the Crystal Serenity, click here.
Sincerely,
Alan Fox
Executive Chairman
Vacations To Go
Related newsletters:
Crystal Cruise, Part 2: On board Crystal Serenity
Crystal Cruise, Part 3: Greece, Croatia and Italy