Uganda and Rwanda Safari, Part 1: Edge of the Comfort Zone
| | |
| --- | --- |
| Only a fool tests the depth of the water with both feet. | |
| -- African Proverb | |
---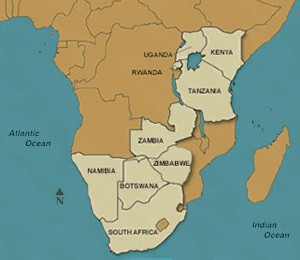 I am writing today from Kenya Airways flight 412, near the equator, in East Africa.
I left Houston three days ago with my wife and another couple. We spent the first night over the Atlantic and the last two in Nairobi, getting right-side-up after 30 hours of travel. In a short while, we will land in Entebbe, the starting point for our SITA safari.
We are here to explore Uganda and Rwanda, two countries that are off the beaten path, even for those who go on safari. In the coming weeks, I will use these letters and slideshows to share with you what I find.
This is my first time traveling with SITA, a deluxe tour operator with 75 years of experience in escorted travel. We have represented them for years and returning guests rate them highly.
Not only did SITA have exactly the trip I was looking for in this region but they offer a wide assortment of safaris throughout Africa and an extensive array of tours to Australia and New Zealand, Asia, India, South America and more.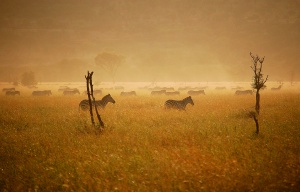 After a two-year hiatus, it is good to be back on the continent. My earlier safaris to Tanzania and Botswana were among the highlights of all my travels to date.
Each of those countries is known for peace and stability, with friendly people that are generally open to outsiders. Their sprawling game reserves are breathtakingly beautiful, with comfortable lodges and tented camps. A vacation in Tanzania or Botswana can be a life-changing event.
On this trip, I have pushed a little closer to the edge of my comfort zone, quite literally, and I want to cover that up front.
To the north, Uganda is bordered by Sudan, where ethnic tensions remain high following genocidal massacres in Darfur. To the east, beyond Kenya, there is Somalia, a wasteland ruled by warlords and pirates.
And to the west, Uganda and Rwanda are bordered by the most violent country on the planet -- the Democratic Republic of the Congo (DR Congo). Since 1998, more than 3 million people have died in wars and civil wars in this country, some of which were triggered by a militia of murderers who fled Rwanda 16 years ago. They still operate in the northeast area of the DR Congo, a lingering threat to the stability of all three countries.
Even our host countries of Uganda and Rwanda -- which have made enormous strides in recent years -- are remembered internationally for war and atrocities almost beyond the imagination.
My first memory of Uganda was during the reign of Idi Amin, a cold-blooded dictator who had hundreds of thousands of his own people killed, destroyed his country's economy and invaded Tanzania before being driven from power, in 1979.
To the south, Rwanda was the site of one of the worst genocides in all of recorded history. In 100 days beginning April 6, 1994, an estimated 800,000 children, women and men were shot, hacked or clubbed to death by bands of government-sponsored death squads and civilians.
But today, both Uganda and Rwanda are very different and their current governments are marching in the right direction. I have heard intriguing things about their parks and game reserves from people in the travel industry who have visited. Both countries are hungry for Western tourists, and tourist dollars can only add to their stability.
In a few days, I'll be able to let you know how they treat their visitors, and how they compare to the great safari countries of Africa.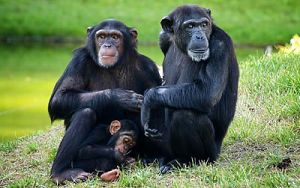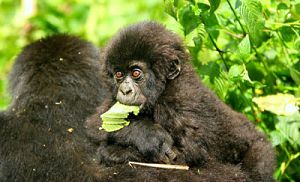 Our expedition will travel entirely by land, visiting several national parks and game reserves. We hope to find creatures great and small that we have never before encountered -- including chimpanzees and rare, tree-climbing lions.
But our main goals are to visit with endangered mountain gorillas that exist nowhere else on Earth, and to make our own meager contribution to their survival. Some say it is the most poignant and memorable wildlife experience of them all, and sadly it is one that simply cannot wait.
Mountain gorillas are categorized as "critically endangered," and 700 of these magnificent animals are all that remain. It will take a Herculean effort to restrain the militants, poachers and habitat-destroying farmers in the area and allow the species to see the 22nd century.
Toward the end of our trip, we will spend two days tracking these gorillas in the Virunga Conservation Area shared by Rwanda and DR Congo, a nearly impenetrable rain forest dominated by eight volcanoes, one of which has just erupted. We won't know until we arrive how the falling ash and lava flows have affected the gorillas, chimpanzees and other animals of Virunga, or how they might affect our itinerary.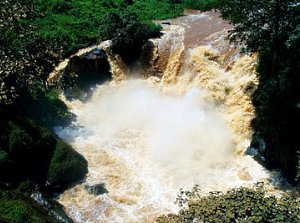 We also don't know whether we might be able to squeeze in a visit to nearby Lake Kivu, which I am anxious to see because of its status as one of only three "exploding" lakes in the world. The lake covers more than 1,000 square miles and is up to 1,575 feet deep, and contains extraordinarily high levels of dissolved methane and carbon dioxide.
Scientists believe that sufficient volcanic interaction with the bottom of the lake would spark a methane explosion, spawning a tsunami and releasing suffocating gases.
According to Wikipedia, "Analysis of Lake Kivu's geological history indicates sporadic massive biological extinction on millennial timescales."
Another reminder that when it comes to vacationing in this part of Africa, timing is everything.
And so this trip begins -- after years of anticipation and delays -- with one eye on the volcano and another on the neighboring countries.
It is the beginning of a great adventure, but I can't help wondering if I am about to test the water with both feet.
Below us now, Uganda stretches like a waking lion, and we will give her our attention and respect. We are here to admire her beauty and to learn whatever she would share.
The green hills of Entebbe rise up to meet us; I will check in from the bush.
Sincerely,
Alan Fox
Executive Chairman
Vacations To Go
Related newsletters:
Tanzania Safari, Part 1: Gearing Up
Southern Africa Safari, Prelude: When Africa Calls
Uganda and Rwanda Safari, Part 2: From Entebbe to Ndali
Uganda and Rwanda Safari, Part 3: From Kibale to Ishasha
Uganda and Rwanda Safari, Part 4: Tracking Gorillas in Rwanda
Uganda and Rwanda Safari, Part 5: Rwanda Renaissance