Searching for Great White Sharks
We met the crew of our boat on the dock in Simon's Town, South Africa, an hour before sunrise. It was 40 degrees F with a 25 mph breeze blowing in from the ocean, wintertime in the Southern Hemisphere. Even as I zipped my windbreaker, I realized it was not quite up to the task.
"We haven't been out for three days because of the weather, but we are going to try it today and see what happens," said divemaster Gary. "There are big swells out there, but the forecast says it may calm down later."
We followed him down a few steps, onto the boat, and in the dim light from the pier we got our first glimpse of the metal cage we had traveled 10,000 miles to climb into. It was little more than 2 feet wide, 6 feet long and 8 feet tall.
Within a few minutes we were joined by nine more passengers, a bleary-eyed group roused from their slumber or, more likely, fruitless few hours trying to sleep, for an early morning rendezvous with the world's most celebrated predators.
Lines were cast off, and the smell of diesel fuel washed over us as we left the protected harbor and moved out into the dark, open water of False Bay.
There was a small, covered cabin -- lighted and warm -- and the other passengers settled there, but our group of three climbed the stairs to sit on the blustery, open upper deck, where we knew we would have a 360-degree view. I was looking for the Southern Cross when the first swell hit, lifting and tilting and dropping our boat in a way that wiped away extraneous thoughts and focused me on simply hanging on.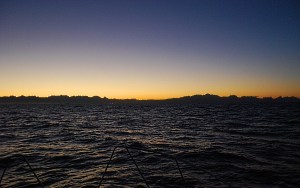 Twenty minutes later came the first light of day, silhouetting a mountain range on the far side of False Bay with a glow that changed from pale gold to pink and then to blue. The captain changed course, and the new angle on the swells brought the first of several cold spritzes over the top of the boat, into our faces. There would be no sleeping on this crossing.
Suddenly, a quarter mile off the starboard bow, a great black form rose from the water and crashed down with a huge splash. A minute later we saw the V-shaped spout of a southern right whale, an unexpected treat.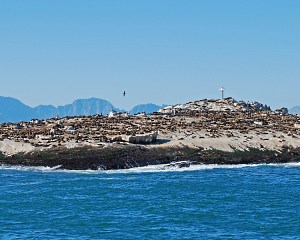 Dead ahead, our destination came into sight. Seal Island is narrow and rocky and only a few hundred yards long, covered with Cape fur seals and pups that fill the air with a pungent odor and a cacophonous racket.
This is the world's premier hunting ground for great white sharks, which can reach 20 feet in length and weigh up to 5,000 pounds. They are responsible for more fatal, unprovoked attacks on humans than any other species.
Seals leave the island to feed on fish, but when they return they must run a gauntlet of great whites that slowly circle the island and rise to take their prey on the surface with such speed and ferocity that they can become completely airborne. On rare occasions, they have actually come crashing down on boats.
Breaching great white sharks were made famous by the Discovery Channel's Shark Week and have been captured in amazing photos and YouTube videos. We were traveling with African Shark Eco-Charters, one of the original operators in the area and one that is frequently used by film crews.
We'd been at Seal Island barely five minutes when we saw our first kill, an enormous shark clearing the water to take down a seal a fair distance away. It happened so quickly there was no way to get my camera on it.
Our captain, Rob Lawrence, sped to the site, but there was nothing to see except seabirds fighting over a 4-foot-long section of intestines.
The first part of the day's agenda called for watching for natural predation -- attacks on live seals like the one we had witnessed -- which peaks at sunrise. It's possible to see a dozen or more attempts in a single morning.
We watched for an hour or so with no further sightings and then moved to phase two. A nylon cutout shaped like a seal was dropped in the water and pulled behind our boat as we crossed back and forth off the rocks of Seal Island.
Many spectacular photos have been taken of airborne strikes on fake seals but there were no strikes on our decoy. After a half hour we moved to the main event, what we had all come for, cage diving with the great whites.
The cage -- which, after we saw an airborne great white, was beginning to look a bit flimsy -- was lowered into the frigid water, and the crew began chumming with chunks of fish. Large fish heads were attached to lines (no hooks) and tossed 20 feet from the boat, where they floated just below the surface. Seawater was poured into a big tub of fish to create a cold fish stew that flowed into the bay. Crew members thumped the bottom of the boat with a board to try to draw the attention of curious sharks.
The plan was simple: Slip into a full wet suit and mask, climb over the side of the boat and down into a submerged cage with metal bars, close the lid and breathe through a regulator pumping air from tanks on the boat, all while the ship pitched and rolled and great whites lunged at the fish heads being dragged by the cage.
Of all the things that could possibly go wrong with this plan, it had never entered my mind that chumming the water might not attract a shark. In two hours of trying, we never lured a shark near the cage.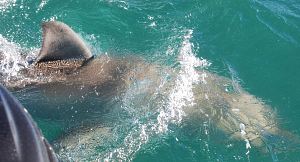 We did attract a great white to the opposite side of the boat, perhaps 8 feet long, which looked us over for a few seconds before disappearing, and a truly massive shark cruised by about 20 yards out. We also witnessed another natural predation, and a Bryde's whale breached no more than 100 yards from our boat.
After disembarking the boat, we visited a nearby colony of African penguins and drove back to Cape Town on the western side of the peninsula, where the mountains and beaches rival the beauty of the Italian or French rivieras.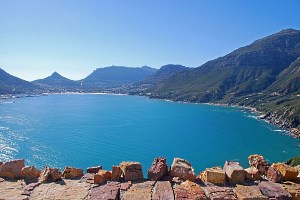 It was an unforgettable day even if we did not get the jolt of adrenaline we came for, the one that surely must come from staring into a great white's eyes underwater or, better yet, a gaping mouthful of giant teeth clanging into the cage. Our new underwater cameras will have to wait for another day.
When you travel to view exotic animals in the wild, you put yourself in position to see amazing things. Frequently you do, but there are no guarantees.
It would not be as special if there were.
Sincerely,
Alan Fox
Executive Chairman
Vacations To Go