Cruising the Indian Ocean, Part 1: The Seychelles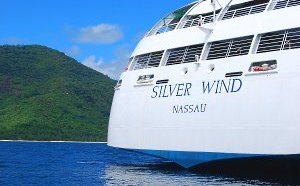 Our flight from Dubai touched down on Mahé, the largest of more than 100 islands in the Seychelles, just after dawn, and we were driven to the Hilton Northolme Resort on the northwestern coast. Forty spacious bungalows are tucked into the trees overlooking the Indian Ocean, strewn with huge granite boulders and painted in shades of aqua and turquoise.
After an easy day and night, we were driven to the capital city of Victoria and the nearby port to board the gleaming Silver Wind, a six-star vessel operated by Silversea, carrying 296 passengers and 210 crew members. We stepped into our suite overlooking the bow of the ship and went out on our balcony to survey the harbor.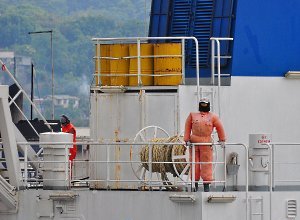 There was a freighter tied up directly ahead of us, and we noticed a large man holding the rail and gazing in our direction, motionless. On closer inspection, we realized it was a life-sized, costumed mannequin, strapped to the rail and posed as if it was on lookout. We had just seen our first pirate scarecrow.
Mahé is about 850 miles from Somalia, the closest country on the African mainland. Somali pirates operate in a 1,000-mile radius around the island, and in the Arabian Sea and the Gulf of Aden.
In October of 2009, a British couple sailed their private yacht from this harbor toward Tanzania but made it only 60 miles before they were hijacked by pirates. They were held for more than a year in Somalia until their ransom was paid.
That was merely the best publicized of many pirate encounters in these waters. The Seychelles is a major yachting destination, known for secluded beaches and crystal-clear water, but pleasure craft visits are off substantially, as are calls from cruise ships and fishing vessels, dealing a blow to the local economy.
The country has responded by building a pirates-only prison and reportedly allowing spotter planes from the EU and drones from the US to fly pirate patrols from Mahé.
Still, there are pirate attacks daily in the Indian Ocean, with at least six hijackings in the last 30 days. Pirates attack from small speedboats, and slow-moving, low-to-the-water and sparsely crewed freighters and fishing vessels are the primary targets.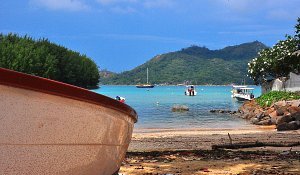 After a night in port on Mahé, we sailed to the nearby island of Praslin, where we toured the famous Vallée de Mai, a tropical rain forest that is home to the rare Seychelles black parrot and the equally rare coco de mer, a palm tree that bears the world's largest fruit (up to 92 pounds) containing the world's heaviest seed (up to 39 pounds).
In the 1800s, Vallée de Mai was proclaimed to be the original Garden of Eden by imaginative British Major-General Charles George Gordon. It is an unusual place, but that is about as far as I'd go.
Yesterday morning, we were on the move again to the neighboring island of La Digue, known for its lack of cars, laid-back atmosphere and beautiful beaches. Unfortunately, clouds and steady rain throughout the day turned the water gray, and our catamaran and snorkeling excursion was cancelled. I'll have to get back to you about the quality of La Digue's beaches, but at least we have a reason to return.
This morning, our last in the Seychelles, we dropped anchor off the coast of Silhouette Island. Under glorious blue skies, we tendered to the shore, gazing up at the thick, green jungle on the steep slope beyond the beach.
On the narrow strip of flat land beside the water, we found a paved path for golf carts, an old plantation house, a tortoise sanctuary and a sprawling, low-rise, luxury hotel.
Beyond this area, the island looked undeveloped, as wild as something out of Jurassic Park. Enormous fruit bats or "flying foxes" soared just above the treetops, making me wonder whether to expect vampires or raptors to pop up next.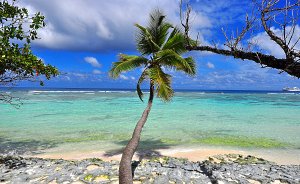 Silversea had arranged access to the hotel's facilities and beaches, and we spent our best day of the trip exploring the island. Hilton will take over management of the hotel in a few weeks, and it will be renamed the Hilton Seychelles Labriz Resort. I'd like to come back someday for more hiking and diving on this tropical paradise.
In a few moments, we will leave this protected cluster of islands behind and set sail for Mombasa, Kenya. The next two days and nights on the open sea will take us closer to the lawless coast of Somalia, where more than 700 hostages and 31 hijacked vessels are currently being held for ransom.
We have received our piracy briefing onboard, we have been notified of our piracy muster stations and what to expect in the unlikely event that the ship comes under attack. A private security team is onboard to assist the crew with pirate lookout, avoidance and deterrence.
NATO posts the location of pirate attacks and mother ships (hijacked freighters and fishing vessels used by pirates as a base of operations for further hijackings) on its website, and we are 350 nautical miles from a freshly hijacked vessel as I write this letter.
There are naval vessels from the United States and numerous other countries on patrol in these international waters, but with small bands of pirates roaming an area the size of Australia, there is only so much they can do. It may take the efforts of many nations, and a functioning government in Somalia, to end this scourge.
I love sea days on an extraordinary vessel like this one, meeting guests from around the world, attending lectures and enjoying the fine food and service. As we weigh anchor for our beeline to Mombasa, I am thankful to Silversea for not abandoning these waters, these places and these people, to thugs.
I'll check in from the other side.
Sincerely,
Alan Fox
Executive Chairman
Vacations To Go
Related newsletters:
Dubai Makes a Big Impression
Cruising the Indian Ocean, Part 2: Mombasa and Zanzibar
Cruising the Indian Ocean, Part 3: Madagascar, Reunion Island and Mauritius