Alaska Trip, Part 1: Visit to Denali National Park and Mt. McKinley
We soared into blue sky and sunshine at 8,000 feet, and the clouds that had appeared so dark and somber from the ground looked like freshly fallen snow from above. Other planes in Denali National Park were grounded due to weather, but our pilot from K2 Aviation was rated to fly under IFR conditions (navigating via instruments rather than visually), and our nine-passenger Piper Navajo Chieftain was the only plane in the sky.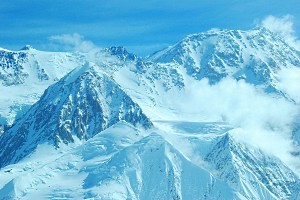 We banked north toward our goal -- Mt. McKinley -- and saw it immediately. Though 40 miles away, the tallest mountain in North America rose from the sea of clouds like a solitary sentinel in ghostly white.
Topping out at 20,320 feet, McKinley's vertical rise from base to peak is the greatest of any mountain in the world that is situated entirely above sea level, almost 18,000 feet. The world's tallest mountain, Mt. Everest (29,029 feet), rises 12,000 feet to the peak from its base in the Himalayas.
That means McKinley is arguably the most imposing mountain of them all, from any angle.
McKinley is so tall it makes its own weather, and that weather can change in a matter of minutes. Visibility every day is unpredictable, for tourists on the ground or in the air, and only about 25% of visitors to Denali Park get to see the peak.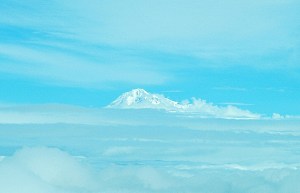 We were lucky. On our approach, even the low clouds dissipated and the entire mountain was bathed in a brilliant, heavenly light. In all my travels, I have only seen light like that in Antarctica.
Our pilot performed a series of precise maneuvers and turns to give passengers on both sides of the plane a close-up look at McKinley's twin summits, five glaciers and countless jagged ridges.
Nearby mountains -- Mt. Foraker (the second highest peak in the Alaska Range at 17,400 feet), Mt. Silverthrone, Moose's Tooth and more -- appeared and disappeared with the ebb and flow of the clouds.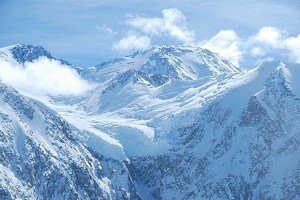 There were about 225 climbers scattered on McKinley when we flew over the base camp on Kahiltna Glacier, including dozens who had been waiting up to five days to be airlifted out. Due to dense forests and raging glacial rivers, the only way to enter or leave the camp is via planes that land on the glacier. Bad weather had prevented any plane from landing there for almost a week, and our plane was not equipped for glacier landings. I wondered what the mood was like for the climbers on that slab of ice.
Climbing Mt. McKinley takes about 21 days if all goes well, but weather is the wild card. Climbers can encounter winds up to 100 mph and temperatures as low as -40 degrees F...in the summer! Welcome to Alaska.
We arrived in the colorful town of Talkeetna yesterday, on a domed, double-decker railcar operated by Princess Cruises. Princess owns a great deal of tourist infrastructure in Alaska, including two hotels just outside Denali National Park and plush motor coaches. The scenic, three-hour trip from Anchorage was punctuated by numerous moose and bald eagle sightings, a delicious breakfast in the dining car and interesting commentary from onboard staff.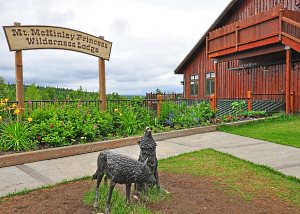 After disembarking the train, we shipped our bags ahead to the Mt. McKinley Princess Wilderness Lodge via Princess' shuttle, rented bikes at Talkeetna Bike Rentals and pedaled out to Talkeetna Lakes Park. We hiked the trail around pristine lakes and returned to town in time for an enjoyable Three Rivers Tour by Mahay's Jet Boat Adventures.
The wide, shallow rivers here are formed by glacial runoff. Mahay's glass-enclosed jet boat offers panoramic views of Mt. McKinley (weather permitting) and the rest of the local skyline. Our guides spotted several bald eagles, explained the history of the area and took us on a walking tour of a frontier cabin and a native Alaskan encampment.
Two hours later, the jet boat dropped us on the riverbank and we were bused a short distance to the sprawling Princess Lodge. We have enjoyed great food and service from the friendly and efficient staff.
Visits to Denali National Park are a popular add-on to Alaska cruises. The Three Rivers Tour is a great introduction to the park, and the exhilarating flight around Mt. McKinley was the highlight of the trip. Both excursions are available to Princess cruise-tour passengers staying at the Princess Lodge.
Tomorrow, we board the train for Anchorage, and from there we will fly to southwest Alaska to search for grizzly bears that don't mind having their photos taken. I'll report in from the Silver Salmon Creek Lodge.
Sincerely,
Alan Fox
Executive Chairman
Vacations To Go
Related newsletter:
Alaska Trip, Part 2: In Search of Brown Bears